Turkish Coup: Security Capture Suspected Soldiers Who Attempted To Seize Pres. Erdogan
Featured, Latest News, World News
Monday, August 1st, 2016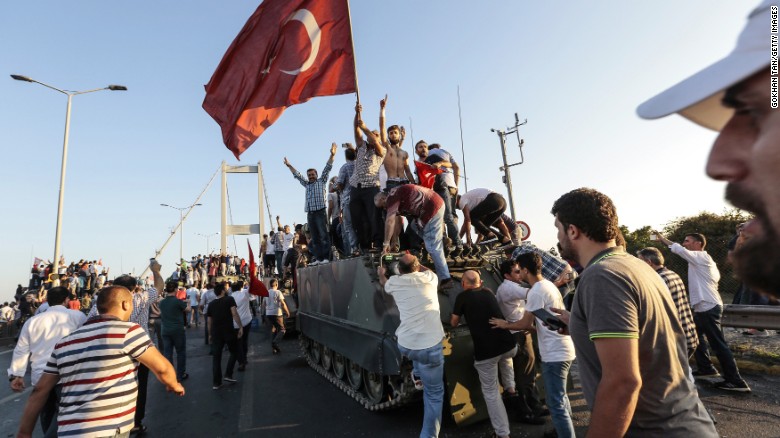 BALTIMORE, MD (AFRICAN EXAMINER) – Turkish Special forces have captured soldiers who allegedly attempted to seize President Recep Tayyip Erdogan during the mid-July failed coup.
The suspected soldiers were arrested overnight after a two-week manhunt near Marmaris.
Those arrested overnight Sunday and Monday included Major Sukru Seymen, the alleged Commander.
Over 20 other members of the military squad suspected to be involved in the coup, had been remanded and will face trial. Reports said the fugitives were located in a forested area.
It would be recalled President Recep Tayyip Erdogan was on holiday at the resort in south-west Turkey on Friday July 15, 2016, night of the coup attempt, but escaped by whiskers, after which the hotel was raided.
The embattled President had, since foiled coup targeted and purged the suspects linked to the attempt. Notably among the suspects was the US based Turkish Cleric Fethullah Gülen.
So far, many suspects have been detained, dismissed or suspended from the military, judiciary, civil service and education sector.
The latest of the purge was the last weekend announcement by President Erdogan of a sweeping reform of Turkey's armed forces that brought them under the full civilian control.
Meanwhile, Turkey has summoned Germany's charge d'affaires to the foreign ministry in Ankara to explain why President Erdogan was prevented from addressing a rally in Cologne via a video-link on Sunday.
Recall, in the heat of the coup attempt President Erdogan made a live broadcast via his mobile phone. He then claimed he had narrowly escaped an attempt on his life.
It was alleged that the President's security team was tipped off, leading to the rebels heading to his hotel and moved him.
Turkish Interior Minister confirmed last Friday that over 18,000 people had been detained; while more than 9,000 of them have been formally arrested. He added in an interview that about 50,000 Turkish passports have been cancelled.
Short URL: https://www.africanexaminer.com/?p=34632