Umahi meets Buhari, says S'East deserves Senate President Position
Featured, Latest News, News Across Nigeria
Wednesday, May 3rd, 2023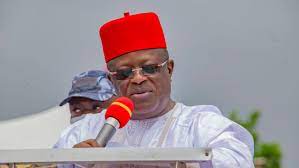 (AFRICAN EXAMINER) – Ebonyi State Governor and Senator-elect, Dave Umahi on Tuesday met President Muhammad Buhari at the Presidential Villa during which he informed him of his interest in the position of Senate President 
According to him, the South East deserves the position of the Senate President in the 10th Senate to ensure justice, equity and fairness.
Speaking with State House Correspondents after the meeting, Umahi said the South East contributed to the success of the All Progressives Party (APC) during the general elections in the country.
Umahi said, "I think that every region that is clamouring for the Senate presidency to be zoned to them, it is the right of such people. But if you look at the true reflection of our society, you will agree with me that the right thing to be done by leaders without prejudice to their rights and their thinking is that the South-East deserves number three position.
"This is very important. And I've always said that you can deliver somebody by the reason of majority votes of a particular region, but you also need the minority cooperation of the minority people to have a holistic nation to govern.
"This is very important for inclusiveness, for the unity of the country and for everybody to be carried along. Nobody has been able to say this is the reason why the South-East should not be given this position. 
"So, I believe strongly and I'm pleading, and I won't even say more than what I'm saying, because I'm contesting; let it not be as if I am doing this because I want to benefit from it; but I know the effort we made, as a people, for the unity of the country.
"I know, the way we were regarded because we have been exposed, a number of us. And we understand that we are stronger when we are together. And we made vows to our people while we were campaigning for the APC, we assured them that we belong to an equitable and fair Nigeria. 
"It has come to a point where that position we took should be practicalised. And that is what we are begging and that's what we are saying, because the chain is as strong as the weakest link. And it's a time for healing, it is a time for inclusiveness and it is a time to move this country forward.", he added.
Short URL: https://www.africanexaminer.com/?p=87610