Umana Debunks False Publication On Ministerial Nomination
Latest News, News, Press Releases
Friday, October 2nd, 2015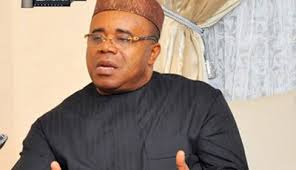 BALTIMORE, MD (AFRICAN EXAMINER) – The APC governorship candidate for Akwa Ibom State in the 2015 general elections, Mr Umana Okon Umana, has dismissed as totally false and without any basis in facts, a publication in the social media which claims that he, Mr Umana, has criticised and rejected President Muhammadu Buhari's ministerial nomination for Akwa Ibom State.
Umana, who said that it has come to his notice that the false publication, which first appeared in Connoisseur.com.ng, is the handiwork of people working for the Akwa Ibom State commissioner for information, Mr Aniekan Umanah, condemned the said publication as a politically motivated cheap blackmail. Umana categorically dismissed the publication as having no iota of truth in it. He also described the false and malicious publication as an act of desperation by the benighted chapter of the PDP in Akwa Ibom State.
The APC governorship candidate said nomination for ministerial appointment was the prerogative of the President who has the right to choose whoever he deems qualified for the position. He expressed total support for President Buhari, adding that Akwa Ibom APC is solidly behind the President.
Umana warned that fruitless efforts at desperate propaganda by agents of the PDP in the state cannot stop the march of the people to freedom through their preferred political party, which is the All Progressives Congress (APC).
Signed:
Iboro Otongaran
Director of Media and Publicity
Akwa Ibom APC Governorship Campaign Organisation
Short URL: https://www.africanexaminer.com/?p=26136