Why Tradition Forbids Disclosure Of Ooni's Death –Prince Aderemi
Featured, Latest News
Wednesday, August 12th, 2015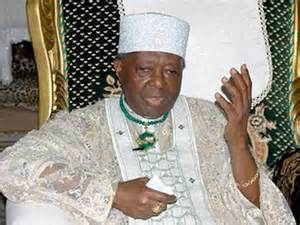 Son of highly revered late Ooni of Ife, Oba Adesoji Aderemi, Prince Aderonmu Ishola Aderemi (Lambua) has explained that the Ife tradition seriously forbids the disclosure of the death of any holders of the stool of the Ooni, because "Ooni never dies".
Prince Aderemi said the Ooni from time immemorial is likened to Oduduwa, being the first son of father of the Yoruba, explaining that among the over 200 Orisha's in Yorubaland, Ooni remains the first, a reason the stool is considered sacred and most revered till date.
He said although the social media 'falsely' broke the news of the death of Oba Sijuwade Olubuse (II)  the fact remains that the Ooni never dies.
Aderemi in a chat with our correspondent recalled that when the Ooni Oba Adesoji Aderemi (I) joined his ancestors in 1980, the news of his death was concealed for weeks without anyone having a hint of what had happened until his death was formally announced.
 "I still remember that some prominent government officials came and wanted to see him, they were never allowed, and that tells you how strong the tradition was.
Prince Aderemi lamented that the breaking of the news of the death of Oba Sijuwade by the social media and later by some Nigerian newspapers had slightly assailed the tradition of Ife on royalty.
He said the custodians of the Ife tradition, which he described as a means of preserving the aura of reverence around the Ooni, were scandalized and jolted, a reason the rebuttal they published thereafter was a necessity.
He said, "I was one of the first to know that Oba Sijuwade passed on because they called me from London almost immediately. However, it was because they took him to London that the information leaked and began to spread.
"Some few hours after I received the call from London, I could observe that the news was all over the place and I started wondering how fast such information could spread. If he had not been taken to London, we would have prevented the news from leaking out"
Prince Aderemi described the late Sijuwade as a good symbol of royalty not only to Ife, but to the entire Yorubaland, recalling how the late Oba brought finesse and touch of glamour to the Obaship of Ifeland.
He recall how close he was to Oba Sijuwade, expressing delight that he enjoyed some favourable moments from his closeness to the late Oba.
He said, "Given the significance of the stool of Ooni to Yorubaland and even the outside world on matters of tradition and royalty, I expect that the good elders of Ife will take time to bring on the throne an able, experienced and well vast a candidate to step into the throne"
Short URL: https://www.africanexaminer.com/?p=24855