2015: We Have No Business with Militants —Rivers APC
Latest News, News
Thursday, May 15th, 2014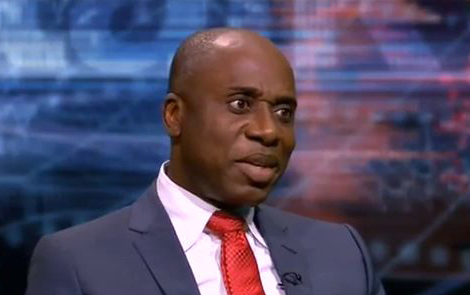 …Accuses PDP of packaging ex-warlord for electoral battle
The All Progressives Congress (APC), Rivers State Chapter, has dismissed rumours making the rounds that it plans, in concert with Governor Chibuike Amaechi, to recruit militants to help it win the 2015 elections in the state.
"To say the least, this allegation just does not make sense," Rivers APC said in a statement issued in Port Harcourt by the State Chairman, Dr. Davies Ibiamu Ikanya.
According to Ikanya, "Anybody insinuating that either Gov. Amaechi or anybody in APC is planning to recruit any militant to enable us win the 2015 elections in Rivers State must either be ignorant of the history of militancy in the Niger Delta region or is simply trying to be mischievous. It is well known to all Nigerians that if there is any governor who put his life on the line in the war against the menace of militancy, that person must be Governor Amaechi of Rivers State. We are all aware that Gov.
Amaechi inherited a Rivers State that was termed to be a jungle where might decided the fate of the residents. He inherited a Port Harcourt that was ranked as the third most dangerous city in the world but within few months of his tenure as governor, the menace of militancy became history. So why should such a person who put his life and that of his family on the line to fight militancy now begin to romance the same class of people in order for him to win an election he is very sure that his party will surely win if the votes of the people are allowed to count? To us, this is just the imagination of idle minds in the Peoples Democratic Party (PDP) populated by militants."
Continuing, Rivers APC said: "We are all aware that PDP is even plotting to sponsor a one-time kingpin of the militants in the person of Chief Ateke Tom as its candidate for the 2015 governorship election in the State. We are also aware that the first five months' salary of Chief Nyesom Wike as Minister of State for Education was donated to a one-time militant. What is more, the same Minister and the Leader of PDP in Rivers State recently held a meeting with Sogboma Jachrees alias Egbiripapa, one of the war lords of militants in the region. Nigerians can, therefore, judge for themselves who between APC and PDP is positioning the militants for the 2015 general elections. Indeed, it is only an unpopular party like PDP that can be relying on militants to survive in the face of the massive support APC is currently enjoying in Rivers State".
Short URL: https://www.africanexaminer.com/?p=11463