Aggrieved Lagos Lawmaker Petitions APC Over Primaries
Latest News, News
Wednesday, December 3rd, 2014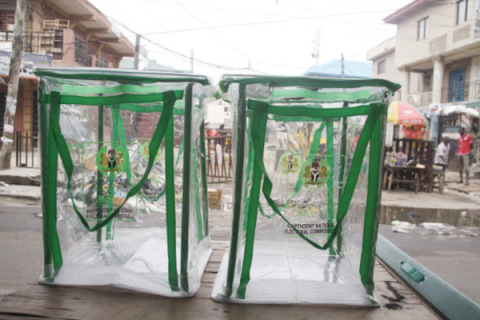 Hon. Mufutau Egberongbe, lawmaker representing Apapa Constituency 1 at the Lagos State House of Assembly, who lost Tuesday's primaries, has petitioned the All Progressive Congress (APC), accusing the Commissioner for Agriculture and Cooperatives, Gbolahan Lawal of twisting the results in favour of his sister, Mojisola Lawal.
According to the lawmaker, Lawal stormed the venue of the election and began canvassing for votes for his sister, who later won the primaries.
In the petition to the party through his solicitor, Oluwole Oguntokun of Ogutokun and Oguntokun Legal Practitioners, Egberongbe alleged that the commissioner was not supposed to be at the venue for any reason since he was not a delegate, a contestant or an election observer.
Egberongbe is requesting that persons alleged to have influenced the outcome of the election be investigated and summoned for interrogation for contravening the guidelines of the party.
"We are reliably informed by our candidate that the primary that was conducted in Apapa Local Government Mini Stadium, Ibiere Crescent, Apapa, for the nomination of candidate for Apapa Constituency 1, was totally influenced by some leaders of the party that ought not to be at the venue of the primary election.
"Furthermore, we are informed by our client that the Commissioner for Agriculture and Cooperatives, Gbolahan Lawal was present at the election venue canvassing the delegates to vote for a particular aspirant, Mojisola Lawal (who incidentally is a direct sibling with the Commissioner).
"We are of the opinion that the guidelines for the nomination of candidates at primaries election of APC stated clearly that non accredited delegates should be at the venue for whatsoever reasons," he said.
According to the petition, "We are also informed by our client that the immediate past Vice Chairman of Apapa LG, Cecilia Bolaji Dada, who is not one of the accredited delegate was equally present at the venue distributing 10kg bag of rice to influence and induce delegates to vote for Mojisola Lawal.
"We are equally informed that the immediate past Secretary to the Apapa LG, Elijah Owolabi Adele in conjunction with the Apapa LG APC chairman, Fatai Sanni conveyed the electoral officers to a secret place on December 1, to influence the outcome of the primary in favour of Moji Lawal."
However, the lawmaker, in the petition, asked: "were the primary elections made for distribution of bags of rice? Were the primary elections conducted for distribution of N10,000 to delegates? Were the primary elections for only one candidate?"
Short URL: https://www.africanexaminer.com/?p=20182