ANALYSIS: The Ruling 'House' And Character Crises
Featured, Latest News, Nigeria 2015 Election, Uncategorized
Tuesday, January 13th, 2015
By Tajudeen Balogun, Head, African Examiner, Nigeria Bureau
Considering the utterances so far made by the stalwarts of the Nigerian major political parties – the opposition APC and ruling PDP before the electioneering campaigns properly took off and series of attacks against the party members and belongings, it is unfortunate to conclude at this age, that Nigerian democracy is yet to grow beyond the knees. What is more ironical and disheartening were, despite the warnings and pleas by the party leaders to their followers to shun violence, but to sell the parties and mobilize for people's support, frightening messages, violent attacks and killings have become order of the day.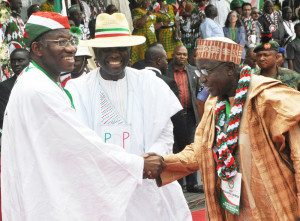 For some good reasons, I must be particular here that, the ruling PDP has not done well on the issue in focus. Consequently, it has again succeeded in affirming the accusation that it encourages "secretly or openly" violence or keeps members that have flair for, or launch attacks against its opponents (with or without the support of its leaders).
For instance, President Goodluck Jonathan early last week, while inaugurating his Campaign Organization, charged the PDP members to go out and sell the party to Nigerians, mobilize and seek for their support in the February general elections. Yet, with the prevailing circumstances, it is not clear, if the ruling stalwarts do listen to their leaders when making such strong comments; Of course, it is doubtful if they believe in what their leaders say, if at all they listen and it is also unclear, if the leaders themselves really meant what they say. The followings (already of public knowledge) will give credence to the above position.
Nothing much (politically) until around late 2006, was known of the Pharmacist/businessman and now the Lagos PDP Governorship candidate, Mr. Jimi Agbaje. Having lost in his bid in 2007 in the similar aspiration (State Governorship ticket), under two different opposition platforms, Agbaje effectively somewhat became passive (politically) until lately, the speculations (now confirmed) of his crossing to the PDP.
The key point here is that this politician was generally perceived to be of high potentials and a "well bred" type. This is Agbaje I and so many other Lagos residents know before the recent actions and certain unexpected statements credited to him. He appeared unveiled his new toga and newly 'indoctrinated mentality' last week Thursday, (during President Jonathan's campaign official take off) in Lagos, when declared as he was called to speak on behalf of his counterparts from other States, that the entire Lagos State "will fall" for the PDP.
Before you challenge what about the remark and its significance, listen to new Agbaje, in another 'call for questions' utterance. At a political parley the same week, in London, the candidate who is jostling to be voted for as a Governor of the country's former capital, exploded and dropped that the South-South people would shut down Nigeria if President Goodluck Jonathan lost in his re-election aspiration.
This is one very inflammatory comment, which the prominent Ijaw leader and President Jonathan's supporter, Chief Edwin Clark as well as the 'repentant' Niger Delta militant leader, also a fan of Mr. President, have made in the past and been generally condemned.
The first Agbaje's utterance was made in the presence of President Jonathan; so, between then and now, what has he done to check such unambiguous, misleading and 'connotative' statements? And obviously, the London remark was more shocking and worrisome. Ordinarily, one would have expected the same President who had repeatedly picked hole in the opposition "threat" against rigging of polls to publicly condemn an irritating address of such magnitude, if he truly meant his caution against anti – peace crusade he and his party always harp about, and for which they call the oppositions names.
For Mr. Agbaje, I must state by his two successive bombshells, it is either he is confirming that he had naturally become one of the die – hard supporters of President Jonathan who will spare nothing (right or wrong) just to preach that the ruling Presidential candidate is an 'angel' and incomparable to none; has succeeded in digesting the modus operandi in his newly found party or has been surprisingly disillusioned by desperation and desire that his party must win at all cost.
I do not need to be reminded at all of the similar frightening statements by the top leaders of the opposition APC. I remember very well, its National Chairman, Chief John – Odigie Oyegun, once declared last year that his party would not accept rigged election results and added to that, the party would not hesitate to come up with a parallel government, should any foul play take place. His counterpart and Rivers State Governor, Rotimi Chibuike Amaechi uttered what was similar to that when he held, also last year that if 2015 elections were rigged, he and his party would fight no one, rather, would opt to form (run) a government that people voted for.
If truly elections were rigged, forming a parallel government is never one of the options provided for, by the Nigerian constitution, so, a knock there for the opposition and its members in their threats. Rigging is illegality and it can never be corrected with another illegality – two wrongs can never be right. I have once articulated this in one the previous commentaries.
But more importantly, the question must be asked and answers must compulsorily be provided, as to who between the two major parties fired or started the violence. The above has given an insight. Still, events that have transpired in the less than two weeks of the rigorous Presidential electioneering campaign were good pointers and indicators to who actually is abiding by the rules of the game and those breaking them.
Nigerians and the entire world still remember very well that some opposition members last Tuesday were attacked on their way to Port Harcourt, the Rivers State capital, when on their way to General Muhammadu Buhari official flag off of his presidential campaign. The armed robbery attack claim by the Police is difficult to absorb and believe, as there were no traces of taking away any valuable after the bloody ambush and attack.
Two days later, Mr. President and his supporters visited Lagos for a well-attended flag off of his campaign. Despite the gridlock in the adjourning axis to the venue – TBS, Lagos Island, there was no single case of violence either around or towards the location of the rally. Ironically, the two States are governed by the opposition party. So, what good explanations could be adduced for violence in Rivers and none in Lagos? Does it mean the opposition (APC) in Lagos was tolerant and conscious than the Rivers PDP who allegedly chose to let loose and take laws into their hands? I believe common sense would judge here.
The violence and attacks raged last weekend as the irate youths descended on President Jonathan branded campaign bus and set it ablaze. The arson was allegedly committed by youths believed to be supporters of the APC. And in what could be described as revenge, far in Okrika – Rivers State, unknown people (suspected to opposition members) stormed the APC office in the town and bombed it. Today (Tuesday) another report had it that another youth and supporter of the opposition party (APC) was killed by gunmen in Rivers State.
Now, the two major parties have recorded casualties and both are counting their losses. But beyond this, the very fundamental question that must be asked is who fired the first salvo? Will the recorded skirmishes would have taken place, if the Tuesday Port Harcourt violence had not occurred? In the escalations witnessed so far, the PDP has more questions to answer.
Violence in politics is needless. Those who promote it are enemies of progress, the people and country in general. The perpetrators must therefore be identified and made to face the wrath of the law.
Finally, if the present ruling party, its leaders and members are upright and not "hooligans" as they claim, its ruling house must and urgently be organized and put in order, most especially to show good examples to others. If the PDP and its members act the peace it preaches, others will follow and anyone who fails to fall in line will be roundly condemned, while the people will also applaud that laws take its course against any political recalcitrant in any part of the country. These coming elections must be peaceful and successful; therefore, the ruling party (first) and the opposition must be seen by all standards to believe and deliver such, not by words alone, but by actions.
E – Mail: tjaysuccess10@gmail.com    
Short URL: https://www.africanexaminer.com/?p=21597