Anti-Corruption Group Wants Buhari To Probe Adoke Over $26 Million Bribe Allegation
Featured, Latest News
Thursday, September 3rd, 2015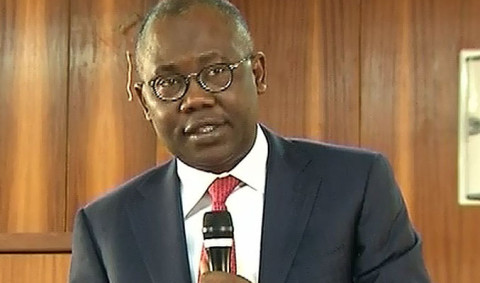 The Coalition Against Corrupt Leaders (CACOL) has petitioned the Presidential Advisory Committee (PAC) on Anti-Corruption to begin investigation into the $26 million bribey allegation against former Attorney General and Minister of Justice, Mohammed Adoke in the Siemens, Halliburtion bribery scandal settlement deals.
CACOL, in the petition dated September 2, 2015 and addressed to the Chairman, PAC on Anti-Corruption, Prof. Itse Sagay, said the committee should as a matter of urgency and national interest investigate the allegations that the then Hon. Attorney General and Minister of Justice, Mr Mohammed Bello Adoke coordinated a bribery scheme that extorted about $26 million USD from about 10 multinational companies involved in the Siemens and Halliburton bribery scandals in the last quarter of 2010.
The petition signed by CACOL's Executive Chairman, Comrade Debo Adeniran said this amount was believed to have been collected under the official cover of making the accused multinational companies pay the legal fees of prosecution counsels, even though the accused were never prosecuted in any court of the land to warrant such unethical secret levy.
"While the EFCC, ICPC and the then Attorney General have listed various sums of money totalling about $240 million as funds recovered in fines and penalties from these multinational companies, no one has dared mention the $26 million that was secretly extorted from these companies, and who the beneficiaries are," it said.
CACOL said some of the multinational companies were alleged to have been forced to pay various sums as fines and bribes under the cover of paying for prosecution's legal fees include Julius Berger, Snamprogetti, Halliburton, Technipp, Shell, Siemens, Saipem, Japanese Gas Corporation, Transocean and Noble Drill.
"While we have been able to get information that Julius Berger alone coughed out $26million USD in fines and another $3 million USD as bribe, we call upon your committee to investigate these cases as the ICPC and EFCC are the agencies that investigated these cases, and indeed filed charges against all the accused before they were withdrawn after some secret terms of settlement were forced on the multinational companies by the then Attorney General.
 As a matter of urgency, we urge your committee to investigate how much each of the accused paid as "legal fees", and how these monies were shared. We also request you to establish through your investigation whether it is the practice for the accused in criminal cases to bear the cost of their own prosecution even though in these cases, no prosecution took place," it added.
 CACOL the committee to also file appropriate charges against anyone found to have abused his office in this matter at the end of investigation.
  It should be noted that on November 22, 2010, Siemens reportedly reached a settlement agreement with the federal government under which Siemens will pay 7 billion Nigerian Naira (approx. $46.5million) to the Nigerian Government, in exchange, for the EFCC dropping charges against Siemens AG, Siemens Nig Ltd and four of its officers.  The settlement payment was variously described as "restitution" and "disgorgement".
 In connection with the TSKJ / Bonny Island bribery matter, on November 25, 2010, it was reported that the EFCC arrested ten Halliburton employees in Nigeria during a raid of the offices of Halliburton Energy Services Nigeria Limited in Lagos, as well as one employee each from Saipem Contracting Nigeria and Technip Offshore Nigeria.
On December 7, 2010, the EFCC reportedly filed corruption charges against Halliburton, former U.S. Vice President Dick Cheney (who was the CEO of Halliburton during the period at issue), Albert Stanley (former CEO of KBR), David Lesar (current CEO of Halliburton) and William Utt (current CEO of KBR).  Technip, Snamprogetti and JGC Corporation were reportedly also charged on the same day.
The case reference was Federal Republic of Nigeria v. Halliburton and others, CV/435/10, High Court of Justice, Abuja Judicial Division (Abuja).
Short URL: https://www.africanexaminer.com/?p=25412