Art Expo Opens December 8 In Lagos
African News, Arts, Entertainment News
Wednesday, November 28th, 2018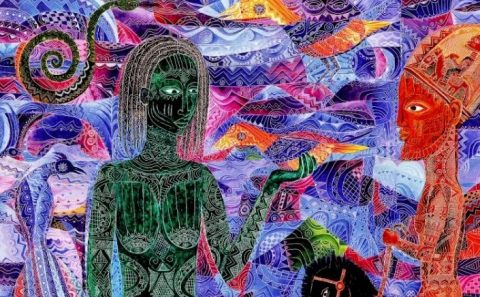 (AFRICAN EXAMINER) –  A total of 14 Nigerian art masters will showcase their works  to spur creativity amongst youths during a two-week expo in Lagos.
The artists told journalists on Tuesday that the art exhibition, which would also showcase modern and contemporary art works, would run from Dec. 8 to Dec. 22 at Alexis Galleries, Victoria Island, Lagos
Among participants in the maiden art expo are: Segun Aiyesan, Sam Avraiti, Duke Asidire, Dominique Zinkpe, Zinno Orara, Diseye Tantua, George Edozie, Abiodun Olaku, Gab Awusa, Alex Nwokolo.
The organiser of the exhibition, Patty Chidiac, urged Nigerians to avail themselves of the opportunity to see and learn from the various arts works that would be exhibited.
"The theme of the exhibition is " "The bloom 1" and would be an annual art exhibition henceforth.
"I want everyone to get entertained and learn from every work of art that will be displayed because they are works of renowned artists who have contributed to the development of Nigeria art industry," she said.
One of the artists, Diseye Tantua, said he made household furniture from vintage cars and power bikes to spur creativity amongst youths through the exhibition.
According to him, unbelievable ideas can also be generated from artists and art lovers before the end of the exhibition.
"Am out to make a statement through my arts and get Nigerian youths creative, making them realise that unbelievable things can be achieved when we tend to be creative.
"I have made plasma televisions, chairs, tables and a whole lot using vintage cars and power bikes," he said.
Another artist, George Edozie said he would exhibit paintings which would project the strength and beauty in being African which should inspire every African to take pride in their culture.
"My works titled " Nnekesi" (The golden fish has no hidding place) and "Ikpopuchi" (calling unto God) will be exhibited," he said.
Also, Sam Ovraiti intends to change people's perception of women through his works which he titled" Celebration", " We are stronger together" and " That same market".
Ovraiti said that the positive contributions of women in the society must be recognised as women turn troubled situations to that of happiness and excitement
"Women are not appreciated in the society, considering their nature and the power to create a joyful atmosphere where there is chaos," he said.
Gab Awusa, who had practised for over 30 years as a painter, said his works projectee gender equality and strength of womanhood.
"Three of my works will be exhibited and they are " Mood swing" ,"Soloist" and "Breadwinner".
"These works preach that a woman should be seen beyond the physical beauty but her contributions to the general welfare of people she comes across," he said. (NAN)
Short URL: https://www.africanexaminer.com/?p=46641