BREAKING NEWS! Prominent Northern Politician and Former Transportation Minister, Umaru Dikko Dies at 78
Breaking News, Latest News, News
Tuesday, July 1st, 2014
Nigeria has again lost one of its political icons, Alhaji Umara Dikko. A prominent Northern politician, from Kaduna, North Central Nigeria and former Minister of Transportation during the Second Republic (Alhaji Shehu Shagari's administration), Dikko died at the age of 78 in a London hospital early Tuesday Morning.
His son, Dr. Bello Dikko and another family member, confirmed the late politician's demise. African Examiner source indicated that Dikko has been indisposed for some time and had suffered three strokes consecutively.
Umaru Dikko; A Fulfilled and Diligent Nigerian Politician 
Late Umaru Dikko was born in 1936 in Wamba area in the old North central state (present Kaduna). Dikko started playing prominent role in the nation's government circle in 1967, when he was appointed a Commissioner in the then North Central State of Nigeria. He was also appointed secretary of a committee set up by General Hassan Katsina to unite the Northerners after a coup in 1966.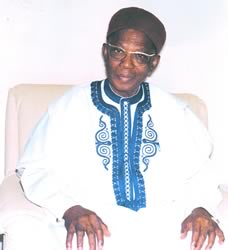 In 1979, he was made the Shagari's Campaign Manager for a successful Presidential campaign under the flagship of the National Party of Nigeria (NPN). During the nation's Second Republic, he played prominent roles especially as the Minister of Transportation in Alhaji Shehu Shagari's dispensation (1979-1983) and Head, the Presidential task force on rice.
The military coup of December 31, 1983, overthrew Shagari's government. Sequel to this, Dikko fled into exile in London as well as few other Ministers and party NPN officials. The new military regime (Generals Muhammadu Buhari and Tunde Idiagbon) accused him and others of large-scale of corruption while in office, in particular of embezzling millions of dollars from the nation's oil proceeds.
On July 5, 1984, yet another very historic part of his life played out. Late Dikko was found drugged in a crate at Stansted Airport that was being claimed as Diplomatic Baggage – an apparent victim of a government sanctioned kidnapping. The crate's destination was Lagos.
Reminiscence; Dikko: The Lucky One Who Escaped Being Spirited Out Of UK in A Diplomatic Crate
On 31 December, 1983, the elected administration of Alhaji Shehu Shagari of Nigeria was overthrown in a military coup. The new military government jailed several government ministers for corruption and embezzlement while in office. However, the powerful former Transport Minister, Umaru Dikko, fled to London. The military claimed that Dikko used his position as Transport Minister to enrich himself in a series of racket scandals. It regarded Dikko as its most wanted fugitive from justice and wanted to bring him back to Nigeria to face trial.
The Military junta made good its threat as it hatched a plot to kidnap him off the streets of London. Nigerian intelligence services and undercover agents (with the help of several Israelis who were alleged to be members of Israel's intelligence agency, Mossad) tracked Dikko to a house in west London. After placing the house under surveillance, the agents decided to strike on July 5, 1984.
Moments after Dikko emerged from the house, two men burst out from a van parked outside the house. They grabbed the late politician and bundled him into the back of the van. The team inside the van included a doctor who injected Dikko to make him unconscious.
Dikko's 'abductors'locked him in a large crate labelled "diplomatic baggage" and addressed to the Nigerian Ministry of External Affairs in Lagos – then capital of the country. They claimed diplomatic immunity for the crate's contents, and drove him to Stansted airport to place him on a waiting Nigerian cargo plane.
Unknown to the kidnappers, Dikko's secretary had glanced out of her window just in time to see her boss being bundled into the van outside his house, and she dialed 999 (free toll distressed code).
The kidnap was initially thought to be the work of criminals and was referred to Scotland Yard's anti-terrorist squad. The Prime Minister Margaret Thatcher was also informed.
The British government ordered customs officials at airports, ports and border crossings to be vigilant when inspecting Nigeria-bound vessels. One customs officer at Stansted airport was especially vigilant. Although the Nigerian cargo plane was minutes from taking off with Dikko on board, he ordered the crate to be opened. Nigerian intelligence officials and diplomatic staff protested that the crate could not be opened as it was protected by diplomatic immunity.
The customs officer called anti-terrorist police. They cordoned off the area and evacuated airport staff. Customs then opened the crate with armed police watching. Inside the crate, they found Dikko unconscious, next to the doctor who had injected him. The doctor had accompanied Dikko in the box to top up his anesthetics and ensure he did not die during transit.
Armed police surrounded the Nigerian cargo plane on the runway, arrested its crew and refused to allow the plane to take off. They also arrested the Nigerian officials and Israelis who drove the crate to Stansted and several members of Nigeria's High Commission in London.
The Nigerian and Israeli governments always denied any involvement in the affair. Foreign intelligence involvement became apparent only when the sophistication and daring of the Dikko kidnap was revealed.
The kidnap caused one of the worst-ever diplomatic crises between Britain and Nigeria. The Nigerian High Commissioner was declared persona non grata in London and the head of Nigeria Airways narrowly escaped being arrested by British police. Diplomatic relations between Nigeria and Britain became severe and was suspended for two years. The controversy also weakened Nigeria's war on corruption, as Britain rejected a subsequent formal request from Nigeria to extradite Dikko and other Nigerian politicians in the UK who were wanted in Nigeria on charges of corruption.
Four men were convicted for kidnapping Dikko (three Israelis and a Nigerian) in a trial at the Old Bailey. The three were slammed with jail terms. All were released and returned to their countries after serving their sentences. After regaining consciousness in hospital, Dikko remained in Britain for over a decade.

Short URL: https://www.africanexaminer.com/?p=13752