Children's Day: Fashola Begs Boko Haram To Release Abducted Girls
Ayo Balogun, education, Latest News, News
Wednesday, May 28th, 2014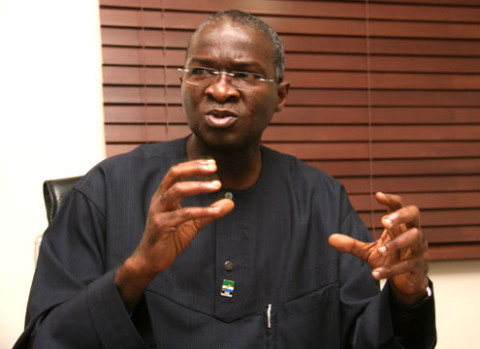 Ayo Balogun, Lagos
Lagos State Governor, Mr. Babatunde Fashola has begged the Islamic terrorists, Boko Haram to release the 234 secondary school girls abducted in Chibok over a month ago.
Fashola made this call at the celebration of Children's Day at the Police College, Lagos, Nigeria, describing as unfair for the group to continue to hold the girls captive for agitations they knew nothing about and for demands they could not meet.
He appealed to Boko Haram to resolve to dialogue rather than keeping the girls hostage as the girls had suffered enough trauma being held hostage for over a month.
"Somebody asked me what the people who have taken our children want, but the truth is that I do not know. But what I do know is that whatever it is those people want, it is not children who can give it to them, it is adults.
"If they have any disagreement at all with anybody, it is disagreements among adults, children have no role to play here. Therefore, I want to passionately and deeply, with every strength I can muster that these people should release these children so that they can engage adults to resolve whatever the problem is," he begged.
The children's day celebration was dull as the children were not in the mood to celebrate. They were all dressed in red vests with the inscription: "Bring Back Our Girls."
The governor saluted the students for their empathy for the missing children and the concerns they had shown through the modest celebration, saying that the messages on their vests, demanding the safe release of the abducted girls showed they were conscious of happenings around them and that they cared about their abducted colleagues.
"The issue of the abducted girls should not demoralize you about pursuing your educational dreams but should give you the courage to soldier on," he said, assuring the students that the government would do everything to ensure they were not only safe at schools but safe at home  and other places.
"You must not be afraid of going to school,I your governor ,your parents will do everything we can do to ensure that your schools are safe and also  you are safe in your your communities," he said, while advising children against trusting strangers and accepting gifts from people they did not know to be safe from kidnappers.
Short URL: https://www.africanexaminer.com/?p=11818