Confab: Delegates Applaud 70 Percent Voting Formula
Featured, Latest News, National Conference 2014
Monday, March 31st, 2014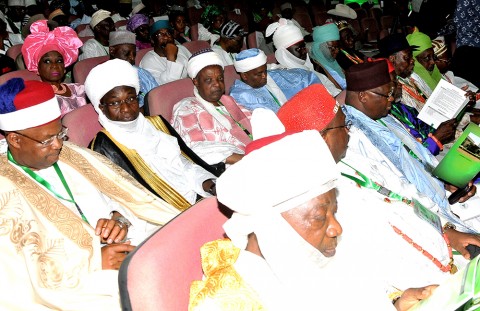 Jacob Oyewale, Abuja
Majority of delegates at the on-going national conference in Abuja have commended the leadership of the conference for adopting 70 percent voting formula at the plenary on Monday.
The voting formula to be adopted incase consensus fail led to disaffection between the North and south delegates last week. The northern delegates favor 75 percent while southern counterpart wants 2/3 majority.
The voting procedure as contained in Order 6, Rule 3 of the Conference Rules provides that decisions shall be decided by at least a three-quarter majority.
It reads: "Any questions proposed for decision in the Conference shall be determined by consensus and when this is not achievable, it should be determined by a three-quarter majority of the delegates present and voting."
While delegates from the Southern part of the country argued for a two-third majority voting procedure, majority of the Northern counterparts routed for three-quarter or 75 per cent, which translates to 369 delegates.
Northern delegates last week threaten to work out of the conference if the leadership approve two/third majority, noting that were already marginalized with conference composition as 200 delegates came from the North and 290 from the South.
The Chairman, Idris Kutigi therefore selected 50 delegates including leaders of various delegations and interest groups to meet with the leadership and discuss the issue.
The 50 selected delegates after series of meetings and consultation agreed on 70percent shift ground from north and south position.
Senator Iyorchia Ayu, representing the Former Senators Forum at the plenary today moved the motion for adoption of 70 percent voting right.
"I hereby move the motion for the adoption of the committee of the 50 wise men on 70 per cent voting right."He said
Former Akwa Ibom Governor, Obong Victor Attah, seconded the motion before the conference Vice-Chairman calls for a voice vote, the vice-chairman ruled in favour of the motion to adopt 70 per cent majority vote for the conference.
Reacting to the development, One delegate from southwest, Yinka Odumakin said that the with the adoption of voting formula, the conference will commence its assignments by moving to committee.
In his words; "I am happy the issue of voting pattern that almost led to physical combat last week has been resolved. We must commend the Chairman, Kutigi for his maturity in handling the conference affairs so far. Now with the adoption of voting pattern, we can now start serious business of the conference."
Another delegate from the north stated that the adoption of 70 percent voting pattern would promote unity among delegates because no region can boost of 70 percent vote.
Short URL: https://www.africanexaminer.com/?p=9692