Customs Confiscates Contraband Values Over 4 Billion in Southern Nigeria
Featured, Latest News, News
Tuesday, January 17th, 2017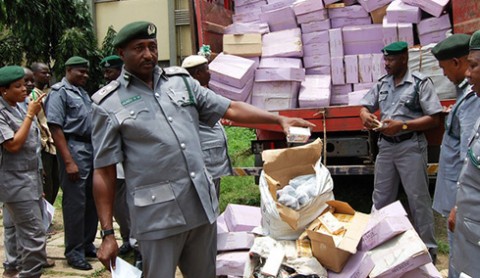 By Ignatius Okpara
OWERRI, NIGERIA (AFRICAN EXAMINER). – The Nigeria Customs Service, Federal Operations Unit Zone 'C' Owerri, Imo state, South- East Nigeria, has hinted that its anti-smuggling unit seized a total of three hundred and seven (307) contraband valued over four billion in 2016.
A statement issued by its Public Relations Officer PRO, Onuigbo Ifeoma and made available to newsmen, explained that the above figure is a combination of both the Duty Paid Value (DPV) of 3,985,931,643.00 and an underpayment recovered as revenue of seven hundred and seventy million, three hundred and forty-six thousand, two hundred and forty-two naira (770,346,242.00).
Besides, the Controller in charge of the Unit, Mohammed Uba, while giving an annual report for the year 2016, had said that the unit which has since driven many smugglers out of their illicit businesses consequent upon its sustained aggressive onslaught against smuggling; arrested a total of two hundred and thirty-four (234) suspects while twenty-four (24) cases are still pending in court in connection with the seizures.
Meanwhile, a breakdown of the prohibited items seized include: 169 motor vehicles with a DPV of 1,013,005,101.21; 2,725 cartons of narcotics (Indian hemp/hard drugs) with a DPV of 366,835,000.00 and 1,759 pairs, 85 cartons and 68 sacks/bales of foot wears with a DPV of 28,234,060.00.
Others included, 7,795 soap/detergents/toiletries with a DPV of 58,889,181; 107,006 cartons of imported frozen poultry products with a DPV of 1,402,086,836.00; 1,018 pieces and 561 bales of bags/suitcases which had a DPV of 134,964,320.00 in addition to 5,794 rethread and used pneumatic tyres bearing a DPV of 97,597,620.00.
It also confiscated 50 cartons and 147 pieces of beverages/confectionary/juices with a DPV of 3,248,570.00; 14,006 bags of rice which has a DPV of 447,850,240.00; 2,333 cartons and 1,598 pieces of furniture and parts thereof with a DPV of 173,048,334.00 and 273 cartons of 2 litres of vegetable oil with a DPV of 9,801,000.00.
According to the Comptroller, the unit equally seized 1,089 pieces of machinery/mechanical appliances/parts which had a DPV of 7,837,498.00 as well as 2,484 electrical/electronics/parts whose DPV stood at 3,886,600 and 951 bales, 470 cartons and 18 sacks of other goods with DPV of 239,441,283.00 as among other seizures made within the year.
He said the development was in contrast to the total seizure made in the preceding year (2015) which recorded a total sum of 2,839,404,837 comprising a DPV of 2,709,807,437.00 and an underpayment recovered of 129,597,400.00.
Mohammed added that the FOU zone 'C' would continue to strategize and re-strategize to bring smugglers, their agents and collaborators to their knees.
He however, expressed sadness that the Federal Government had continued to lose huge revenue as a result of the unpatriotic activities of smugglers who are poised to acquire wealth through the short cut, warning such individuals to desist forthwith, or face the music if apprehended.
The Comptroller also urged Nigerians, especially the youths not to use the present global economic down turn as an excuse to indulge in illicit businesses.
Short URL: https://www.africanexaminer.com/?p=37483