Disabled Youths In Imo Protest Against Okorocha, Accuse him of Deceit, Insincerity
Featured, Ignatius Okpara, Imo, Latest News, News
Saturday, October 26th, 2013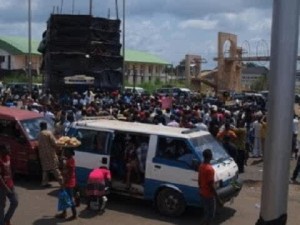 Ignatius Okpara, Enugu
Commercial and social activities were brought to a halt Friday in Owerri, the Imo state capital as over 1000 physically challenged persons staged a violent protest over alleged neglect by Governor Rochas Okorocha.
The protest claimed the life of an accident victim who could not be rushed to the hospital on time as a result of heavy traffic gridlock caused by the protest, which many described as unprecedented.
The protest, came barely 24 hours after members of the Imo Youth Engineer Corps (IYEC) blocked the main entrance to the State government house  Owerri, in protest of alleged non-fulfillment of the agreement reached between them and the governor in 2012 when the corps was established.
The disable persons had blocked the Warehouse Round-About, thereby holding all vehicles to a stand still and preventing any movement.
Even the presence of the state commissioner of police, Mr. Katsina Muhammad, and some military and other security operatives could not open up the roads.
The development forced all vehicles coming from places like Onitsha, Port Harcourt, Orlu or Lagos into Owerri, to go through Concorde/Akanchawa Road, thus resulting to a more long traffic jam.
The protesting physically- challenged persons who came out with their wheelchairs and walking sticks, had displayed placards with various inscriptions to drive home their grouse.
Speaking to the commissioner of police, the state president of the Joint National Association of Persons with Disability (JONAPWD), Dr. Stanley Nwachukwu, accused Governor Okorocha of making so much unfulfilled promises to them without fulfilling any.
Nwachukwu, recalled that the governor had promised to employ their members into the state civil service in 2011, but was yet to do so, adding that Okorocha, was yet to appoint a disabled person into his cabinet as he promised them last year.
He also accused the Imo state chief executive of deceiving them into believing in him as their Messiah without him paying them their monthly subvention.
He said their members had all agreed to block the roads for five days if the governor failed to come and address their grievances.
Responding, the commissioner of police appealed to them to come out of the scorching sun and heat, advising that they should send some representatives to discuss with the governor.
The protesters however refused, saying that the governor would deceive them as usual by giving one of them appointment while the rest of them would continue to suffer.
Short URL: https://www.africanexaminer.com/?p=3694