Don't Interrupt The Process, You Have Done Worse Elections, FG Tells Obasanjo
Featured, Latest News, News Across Nigeria
Tuesday, February 28th, 2023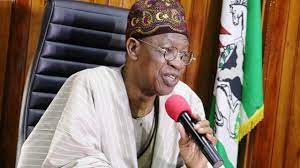 (AFRICAN EXAMINER) – The federal government has tasked former President, Olusegun Obasanjo not to "truncate" the ongoing electoral process happening in the country.
 The African Examiner writes that the presidential election results are presently currently being collated in the federal capital territory (FCT).
The results of some states have since been announced. However, many Nigerians especially persons from other political divides are of the view that the election was a sham calling for the cancellation of the exercise.
Joining the fray, Obasanjo in a letter stated that the elections have been marred with irregularities and should be rescheduled.
Reacting, in a statement on Tuesday, Lai Mohammed, the minister of information and culture, stated that Obasanjo presided over the worst elections since Nigeria returned to Democracy in 1999 and not in the position to counsel President Muhammadu Buhari on elections.
"Though masquerading as an unbiased and concerned elder statesman, former President Obasanjo is, in reality, a known partisan who is bent on thwarting, by subterfuge, the choice of millions of Nigerian voters," he said.
"As the whole nation waits with bated breath for the result of last Saturday's national elections, amid unnecessary tension created by professional complainants and political jesters, what is expected from a self-respecting elder statesman are words and actions that does tension and serve as a soothing balm.
"Instead, former President Obasanjo used his unsolicited letter to insinuate, or perhaps wish for, an inconclusive election and a descent into anarchy; used his time to cast aspersion on electoral officials who are unable to defend themselves, while surreptitiously seeking to dress his personal choice in the garb of the people's choice. This is duplicitous.
"With a deployment of over 1,265,227 electoral officials, the infusion of technology to enhance the electoral process, and the logistical nightmare of sending election materials across our vast country, INEC seems to be availing itself creditably, going by the preliminary reports of the ECOWAS Electoral Observation Mission and the Commonwealth Observer Group, among other groups that observed the election.
"Therefore, those arrogating to themselves the power to cancel an election and unilaterally fix a date for a new one, ostensibly to ameliorate perceived electoral infractions, should please exercise restraint and allow the official electoral body to conclude its duty by announcing the results of the 2023 national elections."
According to the minister, anyone who is aggrieved with the election results should approach the tribunal.
Short URL: https://www.africanexaminer.com/?p=85736