EBOLA IN US: More Panic In Texas As Ebola Patient's Contacts Zoom to 80 From 18 in Two Days
Ebola News, Featured, Latest News, News
Thursday, October 2nd, 2014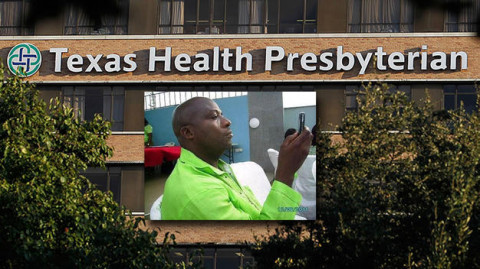 The number of people who came into contact with Texas Ebola patient Thomas Eric Duncan has increased from as many as 18 to 80, health officials in Texas have announced.
Duncan, a Liberian man who is the first person diagnosed with Ebola in the United States, is being treated in an isolation unit at Texas Health Presbyterian Hospital Dallas after being brought to the hospital by ambulance earlier this week.
Medical authorities initially said that they were interviewing and monitoring 12 to 18 people, including five children, who had been in contact with Duncan since he arrived Sept. 19. But Dallas Health Director Zack Thompson said on Thursday that 80 people who may have come in contact with Duncan are being interviewed.
Thompson said four or five members of Duncan's family are under a "control order" to stay inside their homes.
It's not clear if these four or five people under the control order are the five school age children who were told to stay home from school.
Authorities say the family members do not currently have symptoms of Ebola, which include fever above 100.5 degrees, headache, nausea, diarrhea or abdominal pain. The order will continue until at least Oct. 19.
Thompson said he was aware of news reports that Duncan had been vomiting before being admitted to the hospital, but said he was not concerned about the vomiting.
Duncan flew from Liberia to Brussels on Sept. 19. He continued to Washington's Dulles Airport, before flying to the Dallas-Fort Worth Airport on a United Airlines flight.
Authorities with the Centers for Disease Control and Prevention have said airline passengers and flight crew members aren't at risk for Ebola because Duncan wasn't exhibiting symptoms until days later, but his diagnosis has left residents in Dallas on edge, with scrutiny for Texas Health Presbyterian Hospital, which allowed the man to leave after he told a nurse he had come from West Africa.
Duncan returned to the hospital by ambulance two days later. He remains in an isolation unit, listed in serious condition.
Short URL: https://www.africanexaminer.com/?p=18193