Ezekwesili Commends Amaechi on Creative Industry in Rivers
News
Wednesday, October 23rd, 2013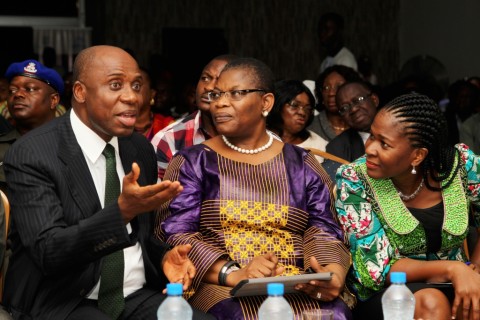 The African Examiner
Nigeria's former Minister of Education and former World Bank Vice President for Africa, Dr (Mrs) Oby Ezekwesili has lauded Rivers State Governor, Rt. Hon. Chibuike Rotimi Amaechi for creating the right atmosphere and promoting the existence of creative minds in the state in Nigeria's emerging creative industry.
Dr Ezekwesili said Governor Amaechi's remarkable effort had attracted most enterprising creative minds to the state, contributing to state economy.
She spoke in Port Harcourt on Tuesday while delivering a keynote address on "Literature and the creative economy" at the Hotel Presidential, Port Harcourt, as part of activities marking this year's Port Harcourt Book Festival.
She said economies gain more opportunities to succeed "by taking hold of the collective talents of a larger number of citizens connected to a broader, more reachable world than used to be the case. creative industries are generally small businesses, self-employment and plenty of informality, deriving from networks and contacts".
Commending Governor Amaechi who also is the chairman of Nigeria Governors' Forum, Dr Ezekwesili said: "For in the development of a larger and more integrated creative society and creative economy, the literature community benefits. It has been found that in societies where the cluster approach to the development of the creative industries has enabled a value chain connectivity of literature to music to film to fashion, there has been greater acceleration of value creation within that industry.
"So in some of the economies that have gone ahead, there has been deliberate policy on the part of government to support through the cluster approach and the cluster approach has sometimes been about cities differentiating themselves as the place where the people that belong to that industry would like to live together, cohabitation, locating the resources and the utilities that the creative mind requires in order to be the best that they can be as often differentiated cities from other cities.
"To that extent therefore, I wish to congratulate the governor of this state (Governor Chibuike Rotimi Amaechi of Rivers State) that Port Harcourt could be differentiated among all other cities in the country as a city that welcomes integrated talent of the creative industry (and for becoming UNESCO World Book Capital 2014)".
She explained that the world had moved to economies fuelled mostly by ideas and innovation and urged the Nigerian Government to encourage creative enterprises to identify new sources of growth.
"The search for new sources of contributions to economic growth has become even more urgent at the turn of the millennium and even more so since the global economy began to de-accelerate", she stated.
Describing creative industries as knowledge based economic activities involving diverse professionals, Dr Ezekwesili advocated the collaboration and cooperation of those in the industry, stressing that literature when properly used contributes towards building a more inclusive and equitable society.
Responding, Governor Amaechi said his administration is determined to build a creative village and create conducive atmosphere for the state's creative industry.
He said the state has commenced construction of libraries and would soon complete a cultural centre named after Nigeria's former Miss World Agbani Darego.
"We are about to build a new library…We are building a creative village with library , a café, a writers' residence and a theatre and I must say we want to build before the world book capital starts."
"We have one of the best theatres in Nigeria. It will soon be commissioned in December. It is called Agbani Darego Theatre. It's ready. But beyond that, government is also building, they call it library but I call it reading rooms all over Port Harcourt. We told them in each local government one, in Port Harcourt we say between ten and twenty."
Amaechi challenged current writers to recreate Nigeria's history and address the country's political problems.
Earlier, Mrs Koko Kalango, the festival facilitator, said the book festival was a prelude to Port Harcourt's tenure next year as UNESCO World Book capital, noting that the recognition would put Port Harcourt on the international stage.
Short URL: https://www.africanexaminer.com/?p=3473