Fashola blasts FG Over Delay In Monthly Allocation as he Commissions N3.2Bn IPP
Ayo Balogun, Featured, Latest News, News
Thursday, October 17th, 2013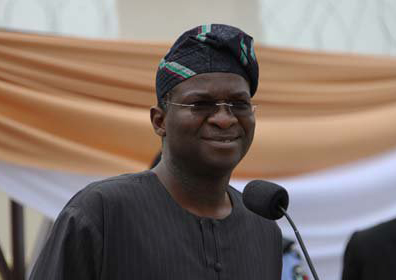 Ayo Balogun, Lagos
Governor Babatunde of Lagos State has accused the Federal Government of delaying the monthly allocation from the federation account meant for states, hampering project implementation in Lagos State.
The governor said it had recorded a deep in budget performance due to the inefficiency of the federal government to remit the month allocation meant for states from the Federation Account Allocation Committee (FAAC).
Fashola, who spoke at the third quarter budget review of the state government at the State House, Ikeja, Nigeria said "we recorded 70 percent in the third quarters. It is a slight deep in the overall aggregate of 72 percent mid-year review to 71 percent now.
"But it is a larger deep from 83 percent for the second quarters standing alone to 70 percent for the third quarters standing alone. By and by, we focus on the positive side. What is positive here is that what we report as budget performance is the combination of work done and payment made."
According to Fashola, "there is a lot of works that have been completed, but we have not paid for. The core reason for that is the revenue shortfall we have been experiencing and delay in revenue that is coming from the federal government. This includes delay in the remittances of FAAC allocations and lack of agreement on NNPC accounts at the FAAC meetings. I think over two months now, between August and September, the FAAC payment did not come on time."
The governor also called on the federal government to probe the stealing of 400,000 barrels of oil in the country.
"If we are reporting some of the excuses that we heard, 400,000 barrels of oil is being stolen. The story does not change. Some of the questions really are: Is it a fixed amount of oil being stolen every month? Even if oil thieves do not change, is it still the same amount? We need to look at this thing more rigorously,' he said.
Meanwhile, Fashola on Thursday commissioned the 10.4MW Alausa Independent Power Project, IPP, built at N3.2 billion, saying that the project would boost electricity supply at the Lagos State Secretariat in Ikeja.
Fashola stated that the solution to unemployment, underdevelopment and job creation lied in made in Nigeria products, saying that the Alausa IPP was made in Nigeria and delivered by Nigerians.
He said that with the commissioning of the IPP, Lagos State had become the first state government in country to run its secretariat through IPP.
Fashola said the IPP project was the brain work of the Public-Private Partnership, PPP, saying the PPP had been working for the state government.
He added that with the IPP, the over 130 generators being used at the State Government Secretariat would now be a thing of the past, saying that the capacity of these generators ranged from 30KVA to 50 KVA.
Short URL: https://www.africanexaminer.com/?p=3145