Fayose Blasts Lai Mohammed Over Comment on Ekiti Violence
Featured, Latest News, Politics
Sunday, September 28th, 2014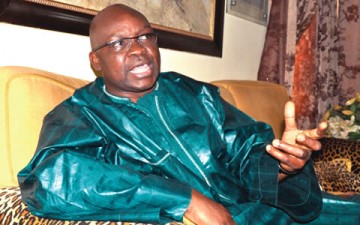 Ekiti State Governor-Elect, Mr Ayodele Fayose, has said the call by the National Publicity Secretary of the All Progressives Congress (APC), Alhaji Lai Mohammed, that he be arrested over recent political developments in the state was baseless, spurious and came from an ignorant mind.
Speaking in Ado-Ekiti on Saturday through his Chief Press Secretary, Mr Idowu Adelusi, he said Mohammed was fed with lies about the happenings in Ekiti State and that he had exposed himself by commenting in a manner only an ignorant fellow would do.
Adelusi noted that he was not surprised by Mohammed's outburst because he, like other APC leaders, were sad as their efforts to launch a judicial coup failed woefully on Monday.
"We Yoruba people have a saying that 'inu a bimo ku ki idun ( somebody who gave birth and lost the child would not be happy). Having snatched people's mandate through the back door, not once but twice, to rule states where they did not win elections, the APC and its leaders thought that is the best way to secure electoral victory.
"They did those things in the past through 'Salamic' judgments and were hoping for a repeat performance in Ekiti State after the people rejected them with His Excellency, Mr Ayo Fayose, trouncing their opponents 16 goals to zero. Their man could not even win his local government.
"Their evil plan to use compromised judicial officers last Monday to steal the people's mandate was scuttled by the vigilant voters who freely gave their mandate to Fayose. Their game plan was to do another 'Salamic' abracadabra and get the inauguration of the governor-elect aborted. They were planning to get the Speaker of the House of Assembly inaugurated as acting governor. People from Gboyin Local Government where Speaker Adewale Omirin hails from were already jubilating.
"God, in His mercies, exposed them and for Lai Mohammed to put the blame on Fayose smacks of 'bad belle' and malice," he said.
The CPS opined that the two suits brought before an Ado-Ekiti High Court by a group, the E-11 were pre-election matters and that the issue of the jurisdiction of the court was being contested.
Adelusi advised Mohammed and the APC leaders to learn how to accept defeat, as in politics, one wins some and loses some.
He called on the people of the state to be vigilant, as enemies of their collective resolve were roaring about like a wounded lion.
Short URL: https://www.africanexaminer.com/?p=18018