Feature: Why Angela Alsobrooks Should Be Next PG County Executive
Articles/Opinion, Featured, Featured Contributors/Columnists, Latest News, Politics
Friday, April 13th, 2018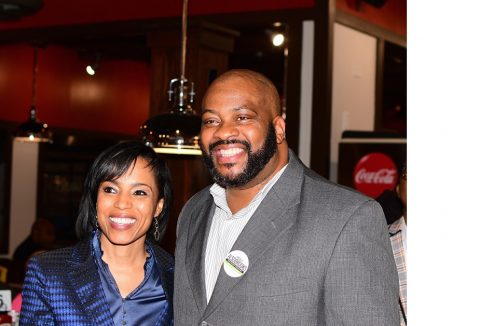 Photo: Ms Angela Alsobrooks and Harrison Harrison C. Nwozo Jr.
…And What Her Election Means to African Diaspora
By Harrison C. Nwozo Jr.
(AFRICAN EXAMINER) – At an appearance Ms. Alsobrooks made on February 25, 2018  with United Brothers Organization (An African Diaspora Group of African Business Owners in PG County), at their meeting in Lanham, Maryland, Ms. Alsobrooks pledged that she will not forget or abandon the African community as was done in the past and vowed that her administration will be transparent and will not tolerate discrimination against African owned businesses.
She further pledged to hire qualified Africans in her administration and most importantly, she proposed to open a PG County Executive Office of International and African Diaspora Affairs, the first of its kind, in PG County. She promised that she will work hard with the council to have the Office funded. 
Angela Alsobrooks has over 11 years executive experience running PG County Revenue Authority (4 years) and State's Attorney (7 years). She was the youngest and first woman to be elected to serve as State's attorney in 2010. She is known for being "tough on crime" especially in domestic violence and elder abuse cases. Angela Alsobrooks was born and raised in Prince George's County and currently lives in the county.
Angela Alsobrooks is currently running for PG County Executive and although her manifesto and platform can be viewed at  http://angelaalsobrooks.com , I would like to highlight some key issues in her manifesto:
Quality Education: Supporting our Teachers, Invest Early Childhood Education, Vocational Education, Safe Schools, College Readiness programs, State funding for construction & renovation of Schools in the County
Jobs Creation & Economic Growth: Compete for Business Opportunities that create jobs, better support our minority, & local businesses, Procurement support, Workforce Development Programs and Training
Safe Communities for our families & seniors: Potential tax breaks to ensure seniors stay in their homes, a return to twice a week trash collection, punish repeat offenders, crime reduction, investing in Infrastructure, Roads, and Extended & Better Rail & Public Transportation services.
Vincent Iweanoge, the Head of the Africans for Alsobrooks group, introduced me to Angela Alsobrooks recently at an Angela Alsobrooks Meet & Greet event at Sardi's Restaurant in Bowie, Maryland, Wednesday, March 16th, 2018.
During our discussion she said: "A county executive has a solemn obligation to make government work for citizens. That means running an effective county administration that uses our tax dollars wisely to deliver the services we need," said Ms. Alsobrooks.
She continued,  "As State's Attorney, I made sure my agency worked for the people of Prince George's County. For over ten years in government service, I have consistently delivered quality results at the pace citizens pay for and deserve. If given the opportunity to serve as your county executive, I will always govern with this same sense of urgency."
 After meeting with Angela Alsobrooks,  I am excited about Ms .Angela Alsobrooks becoming the new PG County Executive, not just because of her reputation as being a tough on crime State Attorney, or her amazing platform of quality education (Pre K – 12), focus on safe communities, job creation and stability for our elders, but the fact that she is proposing to establish an Office of International Relations and African Diaspora Affairs right here in PG County.
Angela Alsobrooks recognizes the overwhelming contribution of African PG County residents to the Community, yes, that is good, but she also recognizes our challenges, our issues and needs in terms of business opportunities, education, immigration, student exchange and more. In my opinion, she is the best candidate for the African diaspora.
I'm also convinced that Angela Alsobrooks is going to serve ALL PG County residents, regardless of race, creed, and nationality. No one will be left behind. As an Activist in the African Community here in PG County, I am happy to note that she has us very much in mind as well. This is a win-win situation for all of us that live in the County.
I have joined "Africans for Alsobrooks", a community outreach and campaign group created by Vincent C. Iweanoge, to help spread the good news of what Alsobrooks brings to PG County and to get her elected.
Don't forget election day is Tuesday June 26th but there are also 10 days of early voting, so, come out and vote for Angela Alsobrooks as PG county executive.
The Angela Alsobrooks Platform/Manifesto can be found on her website: http://angelaalsobrooks.com/
This piece is written and sent in by Harrison C. Nwozo Jr., from Prince George's County, Maryland, USA
Short URL: https://www.africanexaminer.com/?p=43357