Fire Destroys 12 Shops, Over N20m Worth of Goods in Katsina
Featured, Latest News, News
Tuesday, September 11th, 2018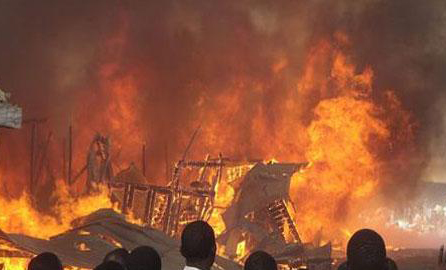 KATISINA, NIGERIA (AFRICAN EXAMINER) – Goods worth over N20m and a total of 10 shops were destroyed by an early morning fire outbreak at an auto spare parts market at Jabiri area of Funtua, Katsina State.
While speaking in an interview Tuesday, some of the affected shop owners said they were called at about 4 am and informed about the fire outbreak.
One of them, Mr. Krifoda Kegobe, said his four shops were burnt, bemoaning that he has lost not less than N8 million worth of goods stored in the shops.
"Some of the people passing through the area said that the fire started from a restaurant near our shops.
"Immediately they saw the fire, the people called and informed me, but before I got to the market from my house the fire has finished all my goods. I was not able to remove anything'' Kegobe recalled.
He added that despite efforts by the people around the area and the fire fighters, they were not able to salvage anything from the shops.
Another victim of the fire, Mr. Johnson Ugochukwu, another victim of the inferno, disclosed that he lost over N10 million from one of his three shops in the area.
According to Ugochukwu, "just of recent I traveled to Kano and Lagos where I spent a lot to buy goods and everything is gone now".
Similarly, a tyre seller Alhaji Nasir Saleh, said he lost about N2 million worth of goods in his three shops.
The victims called on government to come to their aid in order to recoup the losses.
An officer of the Federal Fire Service FFS, in Funtua, Malam Muhammad Sani, said the unit worked in conjunction with the the fire service of the School of Basic and Remedial Studies to contain the fire.
Sani advised residents to be cautious in handling flammable materials to avert fire outbreaks and its consequences. (NAN)
Short URL: https://www.africanexaminer.com/?p=45825