Ground Reality or Nigerian Military Oratory on #Bring Back Our Girls
Latest News
Thursday, May 29th, 2014
By Prof. R.A. Ipinyomi, University of Ilorin, Nigeria
The Chief of Defence Staff Air Marshal Alex Badeh has been quoted as saying on Monday that, "Nigeria military knows where the more than 200 girls abducted by Boko Haram". A senior special Adviser to President Jonathan, Dr. Doyin Okupe also supported the statement on CNN on Wednesday that what the military said was actually the fact. They both agreed to rule out using force to rescue these unfortunate girls. Boko Haram Islamic militants group admitted that they had abducted more than 200 girls in a Government Girls Secondary School Chibok, more than seven weeks ago. Since the incidence occurred on April 14, 2014 only very little is known of the whereabouts of the girls or what exactly the military is doing to get them out. How are they feeding, or what are they wearing, etc?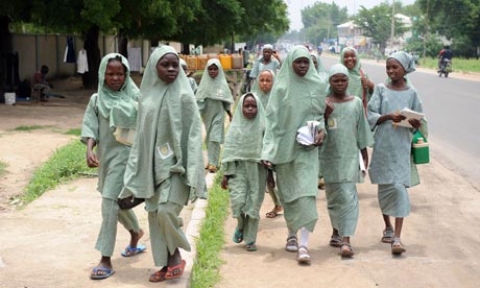 Hence when the Chief of Defence Staff, Air Marshal Alex Badeh said he had some good news, that is, "the good news for the parents of the girls is that we know where they are, but we cannot tell you" his comment may mean different things to different people. Of course any news regarding the where about of the girls and our military personnel would be welcome but we must be careful not to pass unsubstantiated news. There is a time to be rhetoric if you a man of the people or of the pen. The military must strive to remain professional and supporting their claims pictorially. We already have different audiences on the case, namely the pro-Boko Haram and the anti-Boko Haram, within and outside Nigeria. We also have the parents and the direct relations of the many girls involved passing through hard emotional times right now. Air Marshal Badeh and his team is another audience whose professional task is to bring home these girls alive.
We all need to understand the degree of people working as Boko Haram Islamist Militants. The antecedents show that they have no define target but just any point that will get them to newspaper headlines. They do not know who they kill whether it is the devil or a saint; but they make sure so far to preserve their sponsors and financiers. They also avoid government officers hoping to get a price out of them. Therefore any forceful raid to rescue the girls would be fraught with danger and probably not worth the risk that the girls would be killed by their captors. Boko Haram is claiming to be an Islamist group and already dressing their captives to conform. They have shown a degree of ruthlessness in killing civilians, church worshippers, and passer byes. If the Almighty God, or one of his angels, would appear to them he might get shot by the indiscriminate Boko Haram, whereas they preserve their sources of income. They fight on relentlessly. About 500 civilians have been killed since the girls were captured by Boko Haram on April 14, 2014. One of the main objectives which Boko Haram is claiming in its fighting is to establish an Islamic state in religiously mixed Nigeria. Nigeria is diverse in every sense of it, whether in religion, education, politics, culture, language or in every other distribution. Everyone of us would just need a degree in tolerance and understanding.
We wish to encourage the Nigeria military to withdraw from any rhetoric of its activities either on the ongoing exercise or in the future, as part of its surprise professional nature. Nevertheless there ought to be a balance in new reality which may include allowing press men and women to collect pictorial and voice data for their daily use. The entire world is a small village hence the fair press is part of the peace and negotiations we all seek. The BBC reported earlier on Wednesday that a deal was close to being agreed to rescue the girls in exchange for Boko Haram prisoners (a demand the group had made public) but that it was called off at the last minute. In a deal between two parties fighting there ought to be a third party, like UN, ECOWAS or some others to find a common ground between two warring parties. Nigeria government cannot negotiate fairly and objectively with its enemies. Not surprisingly we heard over the weekend that the Senate President David Mark, the country's number three, ruled out doing a deal with Boko Haram. David Mark is part of the Nigeria Government team. As far as they are concern their government cannot negotiate with criminals, they will not exchange people for criminals and every criminal will be treated as a criminal.
Boko Haram in its own wisdom captured these girls intentionally or just as they used to do. They might have thought through the whole process or not. They have brought the entire world to their abode in far away Sambisa Forest in Bornu state and where our President could not go for now. The Military Might must be in place but a diplomatic strategy is what would work at the end. The people pulling the triggers cannot do the negotiations. In Nigeria today the combination of President Obasanjo, the Sultan of Sokoto and one other may do the fair negotiations and quickly. In simple decision theory the goal always is to minimise our losses if we cannot maximise our profits.
Prof. R.A. Ipinyomi,
ipinyomira@yahoo.co.uk or/and raipinyomi@unilorin.edu.ng
Short URL: https://www.africanexaminer.com/?p=11901