Group Wants Ekweremadu To Resign Over Poor Performance
Featured, Ignatius Okpara, Latest News, News
Monday, December 9th, 2013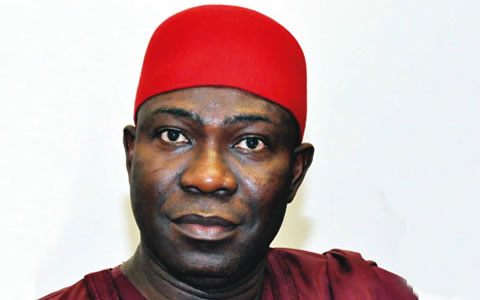 Ignatius Okpara, Enugu
A pressure group under the aegis of Enugu Salvation Group (ESG) has called on the Deputy Senate President, Ike Ekweremadu to resign from the Senate of the Federal Republic of Nigeria for under-representation of his constituency.
Besides, the group also urged the Economic and Financial Crimes Commission (EFCC) to as a matter of urgency open investigation into the numerous assets valued several billions of naira owned by Ekweremadu in Enugu State and beyond.
A statement issued on Monday by the group, signed by its National Coordinator, Hon. Steve Igweze, and made available to African Examiner in Enugu read in parts:
"We challenge him to openly declare his assets, for we know his net worth in 1998'.
The group however, warned that if Ekweremadu refuses to honourably resign forthwith, the group would be left with no option than to initiate the process of his recall from the National Assembly (NASS.)
Igweze said, "Ekweremadu more or less served himself and his immediate family, hence, has performed far below the expectations of his constituents in his 10 years as a Senator, and should therefore give way now, so that the people could seek for a better representation.
"The Federal roads, Enugu-Port Harcourt, Onitsha-Enugu and others are still death traps. He pointed out that the conducts and utterances of the Deputy Senate President were "unbecoming" of a Senator who has not done much beneficial to his constituents in Enugu West and state in general, adding that he had long ago abdicated his primary responsibility of promoting the well-being of his constituents to pursue personal interest.
"The metaphor of his representation is hubris, the other time, he supported legalisation of abortion. Penultimate week, he came out and supported the rejected single tenure whereas it was thrown out by the Senate committee on Constitution Amendment which he presided over as chairman.
"Now, he wants to derail the good governance of our performing Governor, His Excellency Sullivan Iheanacho Chime.
"Lest we forget, Ekweremadu was one of the cabal who ruined Chimaroke Nnamani administration and now wants to ruin our democracy, all in a bid to be President Jonathan's favourite.
"Jonathan should be afraid of such character" Igweze said, insisting that Ekweremadu should resign from the senate forthwith or else they would be compelled to ask his net worth in 1998 given his massive acquisition of properties.
Igweze further challenged the EFCC to stand up to its constitutional duties, and move into Enugu state immediately to investigate how and where Ekweremadu got the money to own such choice properties.
"He should explain to EFCC how and where he got the money to own a radio station, two palatial mansions at Iyienu Street, City Park Hotel along Loma Lynda road, Modotel Hotels, 1000 plots of land at Nike community for his private university and three high-rise buildings at Owerri road by Ogidi and Richard Street Enugu."
Short URL: https://www.africanexaminer.com/?p=5745