INEC To Test BVAS Workability In 436 Polling Units Nationwide
Featured, Latest News, News Across Nigeria
Saturday, January 28th, 2023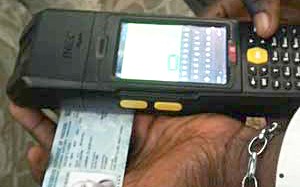 (AFRICAN EXAMINER) – Ahead of next month's general elections, the Independent National Electoral Commission (INEC) said it has concluded plans to conduct a mock accreditation of voters across the country. 
Chairman, INEC, Prof. Mahmood Yakubu disclosed this at a meeting with Resident Electoral Commissioners (REC) from the 36 states of the Federation and the Federal Capital Territory (FCT) in Abuja. 
According to him, the mock accreditation exercise, which would take place in about 436 polling units across the country, is aimed at testing the readiness of the Biomodial Voter Accreditation System (BVAS). 
Yakubu said: "As you are already aware, the Commission has taken delivery of the BVAS machines for the election. We have also dutifully tested each machine in our offices nationwide to ensure its functionality. The next step is to conduct field tests across the country involving actual voters. 
"For this reason, and in readiness for nationwide deployment, the Commission is conducting a mock accreditation of voters similar to what was done ahead of the recent Ekiti and Osun State Governorship elections.
"The mock accreditation will be held on Saturday, February 4, 2023 in 436 polling units nationwide. Twelve polling units have been designated in each state of the Federation and four in the FCT on the equality of the country's 109 Senatorial Districts for the exercise. 
"A comprehensive list of the polling units, including their names and PU Code numbers, as well as their distribution by state, Senatorial District, Local Government and Registration Area (Ward) will be uploaded to the Commission's website shortly. 
"The Commission appeals to registered voters in the affected polling units to appear on the scheduled date with their PVCs for the mock exercise. Doing so would help to reassure the public of the robustness of our system and to strengthen our processes ahead of the general election. At the end of the exercise, the 436 BVAS machines involved will be reconfigured before they are deployed for the general election."
Yakubu said distribution of sensitive materials for the elections to the various states is at an advanced stage while distribution of non-sensitive materials has been concluded.
The INEC chairman expressed satisfaction with the desire of Nigerians to collect their voters card, adding that out of the 940, 200 PVCs sent to Lagos State, about 839, 720 have so far been collected as of Thursday.
He added: "I am glad to report that movement of materials for the election to various locations nationwide is being concluded. Training of officials will commence shortly.
Ongoing consultations with stakeholders will be intensified. Airlifting and delivery of sensitive materials to States of the Federation has gone far.
"Accreditation of national and international observers and the media is being finalized. Critical service providers in the area of transportation have reassured us of their commitment to efficient logistics for the movement of materials and personnel to various locations while the security agencies have reaffirmed their readiness for the election.
Short URL: https://www.africanexaminer.com/?p=84888