Lagos Tanker Tragedy: Fashola Blames FG Over Incessant Tanker Explosions
Featured, Latest News, News
Thursday, January 9th, 2014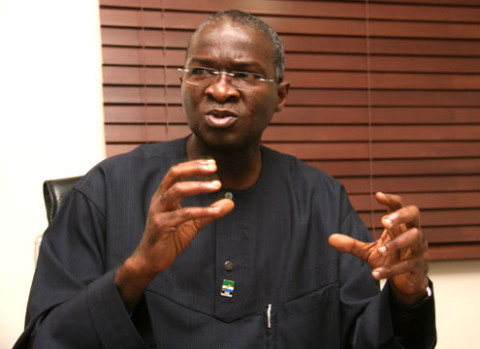 Ayo Balogun, Lagos
Lagos State Governor, Babatunde Fashola on Thursday says the Federal Government should be held responsible for incessant oil tanker explosions in Lagos and other parts of the nation.
The governor expressed dismay and sadness over Tuesday's tanker explosion in Lagos, which killed 15 people with lots of properties destroyed in the inferno.
Speaking after inspection of facilities in Ikorodu area of Lagos, Nigeria, the governor said the incident "is really tragic. I just feel diminished by the fact that we lost lives again when they were avoidable and everyone must take his own share of responsibility on this issue. First, the federal government, why is it in this age and time that we are still one of the few oil producing nations left in the world still transporting fuel with trucks through the cities?"
"There isn't rocket science about restoring the old rail tracks. If the rails are working as they say, then we should begin to use it to transport our petroleum products rather than use the road. It will save the roads and fuel and it will help us. The tanker owners can then buy wagons. It is the same mentality and philosophy.
"People who trade by the road side must also change their model of trade. The high way isn't a shopping plaza. I recognise their right to trade but at what cost?. This was why I said that only the living can trade and anytime we seek to earn a living, we must do it in a manner that doesn't put one life at risk," Fashola said.
According to Fashola, "the inferno is a tragedy. I couldn't find a word to express how sad I feel, especially at this time of the year. We saw the same thing in Zamfara State. It is a year that has started on a bad and sad note. It is a very painful and sad note for the families. And our hearts go out to them."
Short URL: https://www.africanexaminer.com/?p=7057