Libel suit threat: "We shall meet in court" – ASUU, NASU reply UNN VC
education, Ignatius Okpara, Latest News, News From The State
Thursday, May 15th, 2014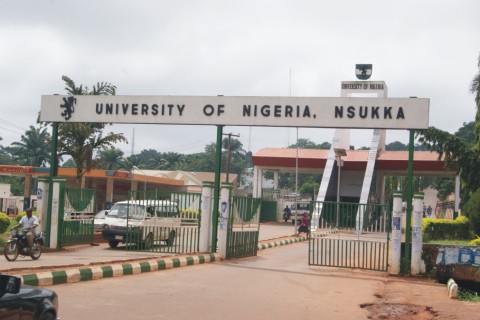 … Insist he is corrupt
Ignatius Okpara, Enugu
The three workers' union at the University of Nigeria, Nsukka, UNN, on Thursday described as laughable, plans by the out-going  Vice Chancellor of the university Prof. Bartho Okolo to drag them to court.
Addressing newsmen in Nsukka, chairmen of the Academic Staff Union of Universities, ASUU, Non-Academic Staff Union, NASU, and the Senior Staff Association of Nigerian Universities, SSANU, Comrades Ifeanyichukwu Abada,  Geoffrey Ugwu and Paul Erua, respectively, lambasted Okolo for leaving substance to pursue shadow.
This came after the unions have equally announced plans to boycott every activity lined up to mark the end of Okolo's administration by next month.
Professor Okolo, whose  five year tenure will elapse in June, had in different letters addressed to the union leaders by his lawyer, M.O Chukwumezie, threatened to drag them to court for labeling him as ''corrupt and inefficient''.
The VC, in the letters, had requested that the unions should  not only apologize to him in at least five national dailies, but also pay him the sum of N800,000,000 (eight hundred million naira) for the losses he suffered due by the publications.
He noted that he shall not hesitate to institute and maintain an action against unions in court if they failed to yield his demands.
However, in their joint briefing, the union leaders insisted that the Vice Chancellor is a clear manifestation of a corrupt university administrator.
They described his call for apology as a child's play and a gimmick intended to threaten, weaken and divert their attention from his alleged corrupt practices in the university.
The unionists, therefore, renewed their call for the constitution of a judicial panel of enquiry to probe the VC's 5-year tenure at the UNN.
The workers said the decision was necessary owing to the VC's alleged illegal activities, ranging from phony staff recruitment/ replacement, illegal meddlesomeness in staff emoluments, siphoning of university money through consultancy services to non-accountable of funds meant for some projects.
According to them, "As a way of showing that we are not comfortable with his administration our members have decided to boycott the proposed send-forth of the outgoing VC
"The outgoing VC stopped payment of check-off dues of unions in the university because we tell him the truth.
"If Okolo claims that what were published in electronic and print media after our press conference in Enugu on October 9th 2013 are false, he should go to court. If he also claims that what he said at AIT programme, Kaakaki, is false, let him go to court.
"ASUU, SSANU and NASU are telling the outgoing VC to go to court if he feels the allegations against him on that press conference and what we said on AIT on kaakaki programme January 14 are defamatory and false.
"We have gathered all receipts of his illegal financial transactions which we will tender as evidences to back our allegations if he goes to court".
"We still maintain our stand that the outgoing VC is corrupt and should be probed.
"If his administration is good, why will all trade unions in the university and the Alumni be against him and accused him of financial mismanagement?
"If he is not afraid of being exposed, let him go to court", they added.
African Examiner reports that the ASUU, NASU, SSANU and the UNN Alumni Association had in the wake of crisis at the university late last year, accused Okolo of running an inept and corrupt administration.
The crisis aggravated during the shocking removal of the university's pro-Chancellor, Dr. Emeka Enejere, who was leading the anti-corruption at the institution.
The Civil Liberties Organization, CLO, equally joined the struggle as it dragged Okolo to the Economic and Financial Crimes Commission, EFCC, having accused him of siphoning the university's fund through non-existing companies and organisations
Short URL: https://www.africanexaminer.com/?p=11451