Malaysia Airlines Declare Plane Carrying 239 People Missing
Latest News, News, Uncategorized
Friday, March 7th, 2014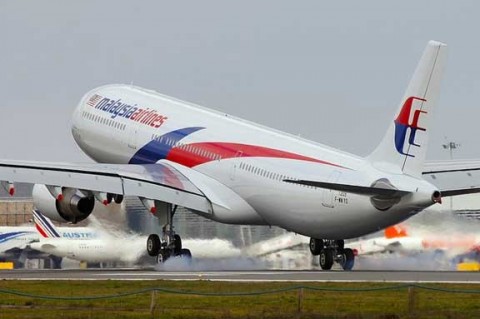 (Reuters) – A Malaysia Airlines flight carrying 227 passengers and 12 crew from Kuala Lumpur to Beijing lost contact with air traffic controllers early on Saturday, the airline said in a statement, the plane likely missing in Vietnamese airspace.
Flight MH370, operating a Boeing B777-200 aircraft left Kuala Lumpur at 12.21 a.m. (11.21 a.m. ET Friday) and had been expected to land in the Chinese capital at 6.30 a.m. (5.30 p.m. ET) the same day.
"We deeply regret that we have lost all contacts with flight MH370," Malaysia Airlines Chief Executive Ahmad Jauhari Yahya said in a statement.
"Malaysia Airlines is currently working with the authorities who have activated their search-and-rescue teams to locate the aircraft," it said.
An official at the Civil Aviation Authority of Vietnam (CAAV) said the plane had failed to check in as scheduled at 1721 GMT (12.21 p.m. ET) while it was flying over the sea between Malaysia and Ho Chi Minh city.
"It's code didn't appear in our system," Bui Van Vo, the CAAV's flight control department manager, told Reuters by telephone.
China's official Xinhua news agency also quoted the Civil Aviation Administration of China (CAAC) as saying the flight lost contact while flying through Vietnamese airspace.
The CAAC said 158 Chinese nationals were on board the plane. China's aviation regulators said they had not received any signals from the plane and that there had been no reports of any aircraft crashing in Chinese waters.
"We are extremely worried," Chinese Foreign Minister Wang Yi told reporters in Beijing. "We are doing all we can to get details. The news is very disturbing. We hope everyone on the plane is safe."
Chinese state TV also said there had not been any immediate reports of a plane crashing in Chinese waters.
If the plane is found to have crashed, the loss would mark the second fatal accident involving a Boeing 777 in less than a year, after an unblemished safety record since the jet entered service in 1995.
Last summer, an Asiana Airlines Boeing 777 crash-landed in San Francisco, killing three passengers.
Boeing said it was aware of reports that the Malaysia Airlines plane was missing and was monitoring the situation but had no further comment.
Malaysia Airlines said it was contacting the families of those on board flight MH370 and had set up support facilities for those affected.
"Focus of the airline is to work with the emergency responders and authorities and mobilize its full support," the airline statement said.
"Our thoughts and prayers are with all affected passengers and crew and their family members."
Distressed family members of those on board had also begun gathering at Beijing airport on Saturday.
Chang Ken Fei, a Malaysian waiting at Beijing airport for friends to arrive, said: "I got here at seven (a.m.). At first I thought the plane was just delayed as normal, so I came a bit later, I've just been waiting and waiting.
"I asked them what was going on but they just tell us 'we don't know'."
Short URL: https://www.africanexaminer.com/?p=8932