National Confab Report- A Document For Buhari's Failure
Articles/Opinion, Featured, Latest News
Saturday, May 30th, 2015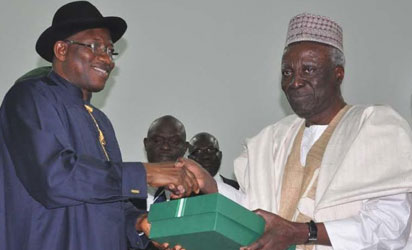 The Editor, African Examiner
By Soliu, Luqman M. , In my article published in October 2013 titled "National Conference-A diversionary loot venture for the cabals", I wasted no time to explain why the conference would be nugatory to the common interest of the masses. Specifically, I stated that Jonathan only wanted to use the conference to silence some people and identify prospective campaigners he would entice for his third term agenda. As if I was prophesising, nearly all of the participants at the pseudo-national conference were Jonathan stooges who had received what their master wanted them to discuss and pocketed their share of national cake.
In fact, the handiwork of Prof Bolaji Akinyemi at imposing the purported report of the conference on members generated rancour when some intelligent people in the conference discovered that the report presented for their adoption did not reflect what were discussed at the conference but what was a ready-made document from section of Nigeria especially the demonic groups of Afenifebi aka Afenifere and Southern Nigeria People Assembly consisting of perfidious elements who had written the document even before the conference and only adopted the conference as rubber stamp avenue to clandestinely re-colonize the country. Even when some sensible people protested to Jonathan of his dubious and lopsided composition of the conference members, he ignored them just because his selfish and divisive interest was paramount to him then. So, if those that destroyed Jonathan made a document and such a document is now to be used by Muhammadu Buhari, is it not another trap to bring President Muhammadu Buhari down?
Now that the Jonathan apologists and stooges had written a document he wanted to force on patriotic Nigerians who were neither invited nor allowed to make any meaningful contribution on it by submitting same report to Muhammadu Buhari on May 28,2015. Should Buhari fail to throw that destructive pseudo National Conference report to dustbin, I would be one of his antagonists till the end of his regime. Since no genuine national conference is yet to take place in Nigeria, it would be disastrous to foist any report prepared to satisfy some people on all Nigerians.
Soliu, Luqman M. BSC,MBA, CAIAR (Solumsec@Yahoo.Co.Uk) Writes From Abeokuta, Nigeria
Short URL: https://www.africanexaminer.com/?p=23799