Nigerians React As Buhari Names Abuja Expressway After President Of Niger Republic
African News, Featured, Latest News, News, News Across Nigeria, News From The State
Thursday, March 18th, 2021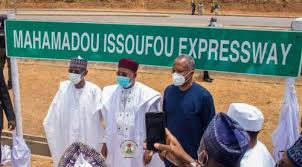 (AFRICAN EXAMINER) – The news that President Muhammadu Buhari has named a road in the federal capital territory (FCT) after the president of Niger Republic, Issoufou Mahamadou, has sparked social media reactions.
According to media reports, at a ceremony in Abuja on Tuesday, Mohammed Bello, FCT minister, stated that the expressway was named after the Nigerien president for his "significant role in the promotion of peace in Africa".
"Earlier today, the first phase of the on-going Outer Southern Expressway (OSEX) in Abuja was named the 'Mahamadou Issoufou Expressway' in honour of the President of the Republic of Niger, Mahamadou Issoufou," the minister said.
"The road was named after the Nigerien President by President @MBuhari as a mark of deep appreciation for the maintenance of brotherly relationship between Nigeria & the Rep. of Niger & in recognition of the Nigerien President's significant role in the promotion of peace in Africa."
In a tweet, Mahamadou stated that the gesture indicates his relationship with Buhari and that of both countries is "excellent".
"My brother and friend, @MBuhari, did me the honor to call an Abuja expressway 'Mahamadou Issoufou expressway'," he tweeted.
"This testifies, beyond our personal relations, to the excellent relations that exist between #Nigeria and #Niger. His caring touches me. I thank him very much."
Reacting, some Nigerians took to the micro-blogging platform to crticise President Buhari for "always" seeking the interest of Niger Republic.
Recalls that President Buhari is also building a $2B railway building into Niger Republic.
A twitter user took to the platform to highlight the numerous times President Buhari has bestowed favour to Niger Republic.
Mazi @FestusGreen@FestusGreen writes: "Niger Republic is unofficially the 37th State of Nigeria, since 1985, when Buhari, as HoS, voted for a Niger republic Fulani man for OAU Sec Gen over an Igbo man. That $2B railway he's building into Niger Republic would be completed b4 the second River Niger bridge. Priorities!
"Buhari also abandoned all of Nigeria's dilapidated critical Infrastructures, and in 2018, he announced that NIGERIA would build a new $2B refinery in Niger Republic. Priorities!
"Buhari had also nominated a Nigerien, Mr Ali Mohammed Magashi, as an ambassadorial candidate, he was from Niger Republic, this was revealed during Senate screening.
"Buhari also awarded a contract of $81 million dollars for the construction of two roads from Sokoto/ Jigawa States up to Niger Republic. What's the connection between Buhari & Niger Republic? What's popping? What president would prioritize a foreign country over his own?"
African Examiner gathers the views of other social media users as the react to the news that a new road was named for the Nigerian president.
#ABT #endsars@ChukzyMccollins writes: "I thought nigeria is a west African country, why is buhari most interested in connections with northern Africa."
jemi_wayne@iamChrisyJay writes: "Jubril can't even hide it, that was what he signed with the Fulani mafias that he must help his country b4 he agreed to replace Bubu, Nigerians eyes nor reach ground."
Voice of New Africa@sAyYOurMinD2 writes: "Even the real buhari is from Niger republic."
Truth Vendor@truthvenddor writes: "This country has been longed hijacked by the fulani mafia. Now they don't even hide it anymore. I just hope the west, east n south find a solution together to end this madness.
Philip OG Ekpere #SHALAYE@OGkaro24 writes: "The man is from Niger republic that why all are long, the reason he came back to be president."
Madridista—Abdlwahab ★ @TheMrnass writes: "Mai Gaskiya named an Expressway in Abuja after the President of Niger Republic. Buhari can't even hide his affinity for his ancestral home."
Chinese Virus@mrfix00262708 writes: "Very soon Niger will become the Capital of Nigeria and Nigerians will remain silent because if they talk they die and if they remain silent they die."
Short URL: https://www.africanexaminer.com/?p=60895