NUC Encourages Nigerian Undergraduates To Embrace Entrepreneurship
education, Featured, Latest News, News
Monday, October 13th, 2014
By Niyi Adeyi
Against the background of high level of unemployment in the country, the Executive Secretary of the National Universities Commission (NUC), Professor Julius Okogie has encouraged the country's university undergraduates to be creative and strive to initiate ideas which will materialize into successful business ventures.
Professor Okogie's made the statement in his goodwill message at the 2014 Youth Summit for undergraduates organized by the Ambassador Emmanuel Oseimiegha Otiotio (AEOO) Foundation in Abuja at the weekend.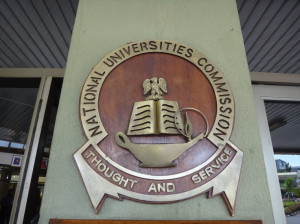 NUC Secretary who announced  the Commission had been  collaborating with relevant stakeholders, on some entrepreneurship programmes for Nigerian undergraduates, warning that the young graduates should strive  to become job creators rather than job seekers.
Professor Okegie who was represented by his Director, Students Support Services, Mallam Ibrahim Iro Dan-Iya, indicated  some of the initiatives included the "Network for African Student Entrepreneurs (NASE) and the Annual National Entrepreneurship Week (ANEW)"  both which he revealed "are aimed at providing a plaftrom for networking and exchange of business ideas among students, promotion of entrepreneurship in the university system as well as projection of entrepreneurship to the larger society."
At the Summit with the theme: "Aspire to Greatness" , Professor Okogie affirmed the event could not have come at a better time than now, when the increasing rate of unemployment among Nigerian undergraduates and the desire to create job opportunities for the teeming youth in the country informed government's decision to "ensure that graduates are equipped with requisite knowledge and skills to start up small scale businesses for sustainable living while in and after school."
"It was against this backdrop that the Federal Government in 2006 directed that Entrepreneurship Education should be entrenched in the curriculum of all Higher Education Institutions (HEIs) in the country", he added.
He highlighted it was in a bid to achieve the set goal the "NUC introduced GST Entrepreneurship as a compulsory course for all undergraduates while the B.Sc Entrepreneurship was introduced as a degree programme in 2011."
The AEOO Foundation, President, Ambassador Otiotio in his address, commended the Federal Government's initiatives through the NUC, pointing out that his Foundation would collaborate and strive to complement government's efforts on capacity building for undergraduate youths so as to enable them start their own small scale businesses.
"This would ease pressure on the government as such small businesses would create positive multiplier effects on the economy as the businesses would be able to provide employment in the private sector" Otiotio explained.
He urged undergraduates who participated in the Youth Summit to be proactive by coming up with ideas on how to drive Federal Government's employment creation initiatives through the NUC.
Short URL: https://www.africanexaminer.com/?p=18588