PVC Distribution: Lagos Declares Friday Holiday For Public Servant
Latest News, News
Wednesday, November 5th, 2014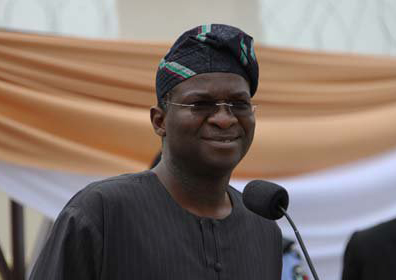 By Ayo Balogun, Lagos
The Lagos State Government has declared Friday as public holiday for all public servants in the state to enable them collect their Permanent Voters Cards (PVCs).
The Independent National Electoral Commission (INEC) had slated November 7 and 9 to distribute 4.8 million PVCs to registered residents of Lagos.
Lagos Governor, Babatunde Fashola declared Friday as holiday for public servants on Wednesday in Lagos, Nigeria, saying that it was to enable public servants devote all their time to collect the PVCs from their various polling units.
"So, for clarity and emphasis, for 3 days, from Friday the 7th day of November 2014 to Sunday the 9th day of 2014, I urge all residents, registered in Lagos to make time to go to their registration or voting centres to collect their Permanent Voters Card. It is your right and it is free.
"I urge employers of labour to be flexible and accommodating to allow workers to close early on Friday the 7th of November, 2014. It is all for our collective good. As for public servants, I hereby declare that Friday, the 7th of November, 2014 shall be a work free day in order to enable workers carry out this civic duty and exercise their civic rights. Again, I urge all employers in the private sector to consider and approve any similar flexibility that gives this opportunity to their employees," he said.
"The prosperity and the brighter rewarding future that we all seek for ourselves and our children over the next four years, will be determined by what we do in the next few days. The time that we sacrifice over these few days cannot be too much a price to secure a better future over 4 years and beyond. I wish you all very well as we take these decisive steps towards strengthening our democracy, giving a voice to our people and rebuilding our nation," he added.
Fashola said for those residents who did not register at the last election, or who were not 18 years old at the time but who had now reached that age and who wanted to register, "the first phase of this exercise which is to issue voters card from 7th-9th of November 2014 is not for you, because a Voter's Card is only produced from a previously existing register.
"Please note that those of you who fall into the category of persons who have never registered or who were registered and cannot find their names, will have the opportunity to register for the first time, or to re-register in the second phase which is for continuous voters' registration starting from 12th November to 17th November 2014."
According to him, after the issuance of PVCs for those who registered at the last election or who voted then, INEC would start a process of continuous voters' registration, which is part of the second phase programme announced by INEC.
Short URL: https://www.africanexaminer.com/?p=19421