Reactions As Oba Elegushi Fixes Oro Festival On Election Day
Latest News, News Across Nigeria, Trending Stories
Wednesday, March 15th, 2023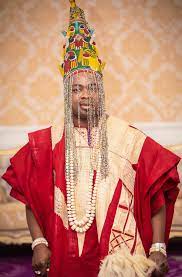 (AFRICAN EXAMINER) – The news that the Oba of Ikate-Elegushi Kingdom, Saheed Ademola (Kusenla III), has declared a three-day Oro rite on non-indigenes and women from midnight to 5:30 a.m., including on Saturday's governorship and state assembly election day has sparked social media reactions.
This was announced in a memo issued to residents of Ikate-Elegushi that there would be a restriction of movement to perform the Oro rite in the community from Wednesday to Saturday warning non-indigenes and women to respect tradition in Eti-Osa
Temitope Oyefeso, the special assistant on media affairs to the Ikate Kingdom's monarch, confirmed that an Oro rite will be happening in the Ikate-Elegushi Kingdom.
"Yes, there is an Oro rite happening in the Ikate kingdom. So, the Elegushi community council decided that residents and visitors should be in their houses from midnight to morning on Wednesday to Saturday," Mr Oyefeso told Peoples Gazette.
Mr Oyefeso also refuted claims that the Oro rites will not hinder election activities on Saturday, declaring, "We are not saying people should sit at home during the day like they have in other places".
He added: "Elections are held during the day, and by morning we will open the roads for people to come. It is a traditional rite. But unfortunately, it has come at this time. It is an annual event, and this is not the first time. We are not disrupting any process."
According to him, the Oro rite will bring peace to the community, adding that it happens in all communities within Lagos.
He further disclosed that non-indigenes registered to vote in Elegushi will not be disturbed from voting as "they will not leave the house to vote by 2:00 a.m., so they ought to be in their house."
"Voting starts by 8:00 a.m., and there is a police curfew for midnight on Election Day. We are not doing anything different from what the police have done. It will just commence two days earlier," the monarch's spokesman explained. "People should stop speculating rumours or being mischievous about Oro rites; it is not interfering with the process of the election. Residents can move about from morning till 11:30 p.m".
This development has sparked social media reactions as many Nigerians on social media are reacting to this news and they took to Twitter to vent their spleen concerning the issue. The African Examiner gathers some of their thoughts below:
@Nkemchor_ writes: "The Obas in Lagos are Political Obas with little or no pedigree installed by Tinubu. Oba of Elegushi initially fixed Oro on march 11th when the election was moved to march 18th he changed the date. APC likes to play dirty. They have desecrated every institution because of power."
David Hundeyin PA writes: "I urge the Labour Party governorship candidate GRV, SHA candidates or Private citizens residing in Lagos to challenge this illegality in court. Oba Elegushi can't use Oro Cult ritual to disenfranchise Nigerian citizens. Certain rubbish must not be tolerated on this modern era."
@mavisikpeme writes: "Labour Party won by a land slide in Etiosa lagos during the just concluded presidential election, suddenly, OBA Elegushi of Ikate has fixed Oro festival on Election Day warning all non Yoruba indigenes and women not to leave their houses as it flouts tradition. Just when you."
Ade Razak writes: "APCs plan for the election in Lagos; Destabilise & create apathy in LP Strongholds eg Eti-Osa, Amuwo Odofin, Ojo etc like the Oro declaration by Oba Elegushi Massively rig low surveillance zones eg Badagry LGA, Ikorodu LGA etc. Massively rig APC strongholds eg Lag Island."
@ManLikeBright writes: "Oro on Election Day. Oba Elegushi nice one you hear, if we talk now they'll say we don't respect traditional rulers or our elders. But it's okay."
@Classycrystale1 writes: "Hope this Oba Elegushi is ok though! This his Strategy no jell like jelly fish! Abeg getat!!"
@FAGalileo writes: "Idiotic traditional rulers in Lagos State. Little wonder no one takes their stools SERIOUSLY anymore. Oba Elegushi is one of BAT's terrible legacy in Lagos, barely educated traditional rulers holding sway over an enlightened populace."
@SirDavidBent writes: "Oba Elegushi is a fellow that gives traditional rulers a bad name. Why would the Oro festival be organized on the day of election, with the purpose aimed at disenfranchising folks. Note: this tweet isn't intended to side-line our traditional practices, but to condemn a tyrant."
Short URL: https://www.africanexaminer.com/?p=86181