Several Injured As PDP, APC Supporters Clash in Osun
Featured, Latest News, News, osun election 2014, Politics
Tuesday, July 8th, 2014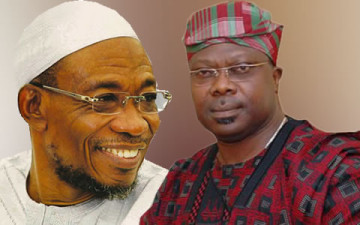 Political Campaign towards next month governorship election in Osun State became violent on Monday as supporters of the ruling All Progressive Congress (APC) and the Peoples Democratic Party (PDP) engaged in a violent clash leaving several people injured.
Following the violent clash, both parties pointed accusing fingers at each other in a statement made available to African Examiner.
In his own statement, the Director of Media and Strategy of Omisore Campaign Organisation, Mr. Diran Odeyemi said:
"The attack was led by some leaders of the APC and members of the State Boys, a group of political thugs funded by the state government .
"The coordinated attack on the PDP members was launched immediately after a purported rally of the APC. More than six vehicles belonging to innocent PDP members were destroyed, countless numbers of shops were razed and looted and several members of our party beaten and attacked with machetes.
"We have implored our members to remain law abiding while we have notified the police and other security agencies of this unwarranted attacks on innocent PDP members who are going about their lawful business."
While the Director of Publicity, Research and Strategy of the APC, Mr. Kunle Oyatomi in his own statement explained thus:
"People came in their thousands and showed support and solidarity in a manner that any first timer in Ile-Ife would readily believe and truly so, that Aregbesola has no competitor in the state.
"Before Omisore stepped into the arena, Osun has been peaceful under Aregbesola. But a potentially threat to violence surfaced with Omisore, over interest in becoming governor".
"The question all intelligent people should ask themselves is how can a government of APC that is conscious of critical relationship between peace and development turn round to create violence to stall the very same socio and environmental development it has brought about in Osun?
"In whose interest therefore is violence necessary in Osun if not the PDP?"
Short URL: https://www.africanexaminer.com/?p=14045