South African Court Absolves Pistorius of Murder
Africa, Latest News, News, World News
Thursday, September 11th, 2014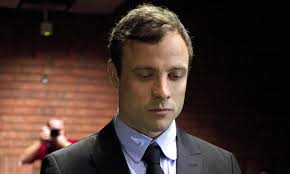 Oscar Pistorius who was accused of killing his girlfriend, Reeva Steenkamp last year has been absolved of committing the criminal offence.
A South African Pretoria's High Court Judge, Thokozile Masipa on Thursday dismissed the charges against Pistorius, declaring that the state failed to prove the case against him beyond the reasonable doubt, but added the court would still revisit lesser charges of culpable homicide, otherwise referred to as manslaughter.
The Judge maintained that the available evidence failed to establish that the accused had intent to commit murder.
"Clearly, he did not objectively foresee this as a possibility, that he would kill the person behind the door", Justice Masipa emphasized.
In the meantime, the jurist stated the court would resume Friday, 9.30am to proceed further hearing of lesser charges.
Twenty seven years "Blade Runner", Pistorius is standing one count  murder charge and three firearms offences over killing of a girlfriend, Steenkamp  on Februray 14, 2013 (Valentine's Day).

Short URL: https://www.africanexaminer.com/?p=17302