WACOL Presents Final Report on Nigeria's Election
Featured, Latest News, News
Tuesday, April 16th, 2019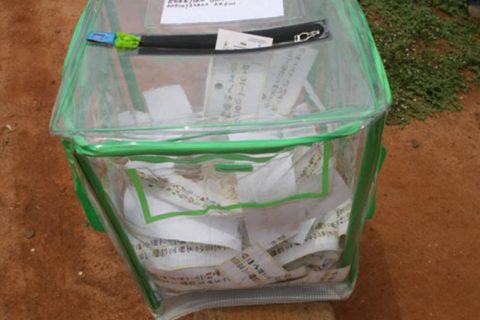 From Ignatius Okpara, Enugu
…Says 18 People Killed, 530 Injured in Southeast
(AFRICAN EXAMINER) – An Enugu based nongovernmental organization (NGO), Women's Aid Collective (WACOL), has released its final report on the just concluded Nigeria's 2019 general elections, with a revelation that a total of 18 persons were killed in various electoral related violence in south east region of the country.
A breakdown of the statistics of the killings as contained in the report indicates that Ebonyi state, ranks highest in the alleged murder with a total number of 9 people who were brutally killed.
African Examiner recalled that WACOL, had recently made public its preliminary report on the polls in the five states of the zone, which includes Imo, Abia, Anambra, Enugu and Ebonyi.
Presenting the voluminous report to newsmen and members of the Civil Society Organizations, CSOs, in Enugu,  consultant to  WACOL, Dr. Malachy Ochie, of the political science department, Enugu state university of science and Technology (ESUT), said the document captured  the detailed account of how the 18 persons were killed in the five states of the  zone, including 530 persons who suffered various degrees of injures.
The report of the Nigeria Election Violence Report (NEVR) project for the 2019 general elections in the zone as prepared by the NGO, showed that Enugu State recorded one death, Imo 6 deaths, Anambra 2, while Ebonyi state recorded 9 deaths, the highest in the region.
Dr. Ochie, a researcher and data analyst explained  that the project was envisioned to develop the capacity of civil society to monitor, analyze and respond to incidents of election-related conflict/violence before, during and after the elections in Nigeria, as well as to promote collaboration and dialogue between election stakeholders in order to mitigate and/or prevent election violence.
According to him, apart from Enugu State where incidences of election violence were minimal, elections in other states were characterized with violence, thuggery, killings and destruction of property.
Ochie noted that 18 cases of violence, which included burning of campaign vehicles were recorded in Enugu state, while in Abia state a total of 32 violence cases were recorded. In Imo State a total of 84 violence cases were recorded, out of which six people were killed while 306 people were injured.
He added that Anambra state recorded 27 cases, out of which two people were killed, while 18 people were injured., adding that Ebonyi state recorded 124 violence cases out of which nine people died, 91 people injured, eight vehicles were destroyed, 10 houses burnt while 15 motorcycles were destroyed.
"Apart from reported incidences of violence in places like Ebonyi, Abia and Imo, our monitors equally reported large scale of vote buying and voters intimidation by political thugs," he said.
Executive Director of WACOL, Professor (Mrs)Joy Ezeilo, represented by the organization's programme Manager, Mrs. Anuli Ezennaya, in her brief remarks, said the project was carried out by the NGO, in partnership with the International Foundation for Electoral Systems (IFES), with support from USAID and Ukaid
Stakeholders and other participants at the event, had recommended the introduction of electronic voting in future elections as well implementation of the Justice Mohammed Uwais electoral reforms report so as to mitigate the incidences of election violence in Nigeria.
She hinted that the document was prepared through the findings of the 125 independent monitors trained by WACOL and deplored the five states of the south east region for the poll monitoring.
Short URL: https://www.africanexaminer.com/?p=48033