We've Given Automatic Employment to Over 300 1st Class Graduates -UNN VC
education, Enugu, Ignatius Okpara
Thursday, October 3rd, 2013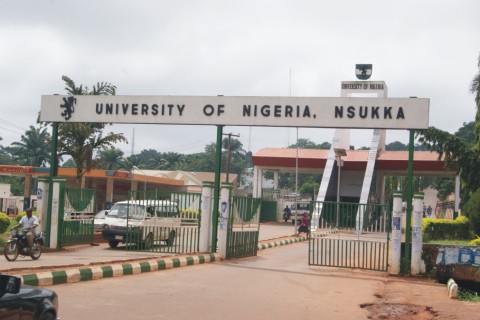 Ignatius Okpara, Enugu
The management of the University of Nigeria Nsukka (UNN), says it has offered automatic employment to over 300 first class graduates from various universities across the country in last four years.
It said the gesture was part of the institutions determination towards promoting academic excellence in the university as well sustain her scholarship scheme.
"A major determinant of academic excellence and one of the major quality assurance features in higher education is the competence of faculty. Thus, as part of efforts to sustain the standard of scholarship at the University of Nigeria, we have continued to offer automatic employment to first class graduates and best graduating students of good universities.
Vice chancellor of the university, professor Bartholomew Okolo, disclosed this Wednesday at the Enugu campus of the institution (UNEC) while briefing newsmen on activities lined up for the forthcoming 53rd founders day celebration and golden jubilee of the first graduates of the institution.
He said the ceremony scheduled for 2nd – 7th October 2013, would also featured two public lectures, adding that the first one with the theme: "Human Capital Dimension of Transformation" would be delivered on Saturday 5th October, 2013 by the Deputy Governor of Central Bank of Nigeria (Financial System Stability), Dr. Kingsley Chiedu Moghalu
According to professor Okolo, the second lecture would be delivered by the Nigerian Ambassador/ permanent Representatives to the United kingdom,  Dr. Humphrey Umunna Orjiakor on Monday 7th October, and the theme would be "Higher Education Experiment in Nigeria, the Nsukka Experience, 53 years after"
"As at the last count, over 300 of such young scholars have been hired. Through the many partnership which we established with universities overseas, TETFUND grant, the Fulbright scholarship, the commonwealth scholarship and many other grant outlets including internally generated resources, we are able to create opportunities for these young academics to get exposed to international best practices in teaching, research and administration." Okolo stated.
He said some of the scholars have completed their training and have returned while many more are still studying "towards postgraduates degrees abroad".
"Having this number of young, brilliant scholars on our faculty gives me hope that the future of our university is bright. These new generation of scholars are being looked upon to sustain our renewed match towards world class status," he said.
The UNN boss, also hinted that many distinguish scholars have also been attracted and hired to join "our faculty from across the world in tenured, sabbatical, and visiting positions."
He stated that the university was currently investing massively in the acquisition of ultra modern teaching and research facilities for its classrooms and laboratories.
On the issue of cultism in campus, the VC, said the institution, maintains zero tolerance for such unholy association, saying in the past ten years, it has not recorded any ugly incidents relating to cultism.
Short URL: https://www.africanexaminer.com/?p=2094