"We've Located Abducted Chibok Girls" –Defence Chief
Featured, Latest News
Monday, May 26th, 2014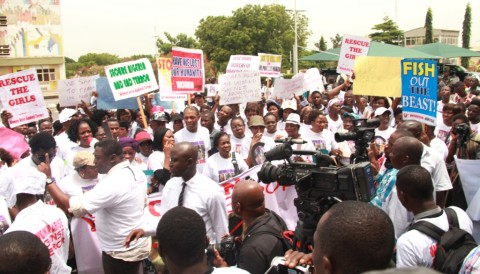 Chief of Defence Staff Air Marshal Alex Badeh said on Monday that "the good news for the parents of the girls is that we know where they are" but said he couldn't reveal the location.
"But where they are held, can we go there with force? We can't kill our girls in the name of trying to get them back," he added.
Mr Badeh was addressing demonstrators who had marched to the Ministry of Defence in Abuja to protest against the government's response.
"Nobody should come and say the Nigerian military does not know what it's doing," he told the crowd. "We know what we are doing."
"The president is solidly behind us. The president has empowered us to do the work," Mr Badeh said.
The girls, who were mainly Christian, are thought to be held in a remote forested area of the north-eastern Borno state, close to the border with Chad and Cameroon.
Nigeria previously insisted it would not agree to free Boko Haram members in return for their release but the information ministry insisted that all options were on the table.
The UK, the US, China and France are among those countries to have sent teams of experts and equipment to help to locate the girls.
BBC News
Short URL: https://www.africanexaminer.com/?p=11791