In US, Zamfara Partners with Maryland On Economic Development, Cultural Exchange
Featured, Latest News, News
Thursday, April 10th, 2014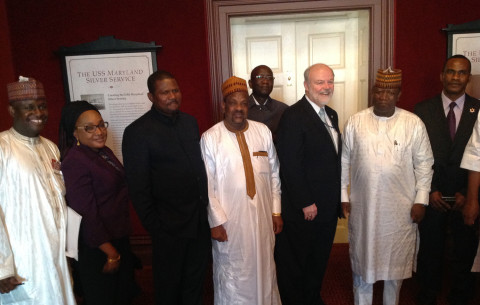 African Examiner
Zamfara state has joined the popular Maryland Sister States Program as both states have agreed to partner in the area of health, education, agriculture and cultural exchange.
Zamfara becomes the third state in Nigeria to join the program, which was established by the state of Maryland to oversee her many international exchanges, and to promote a balance of business, educational and cultural interests between Maryland and member states.
Cross-River and Ondo states are other states in Nigeria that are current members of the Maryland sister states program.
Zamfara state was admitted into the sister state program on Wednesday in Annapolis at a meeting held between the delegation of the zamfara state government led by Governor AbdulAziz  Yari and Maryland Secretary of state Mr John McDonough.
Mr Mcdonogh said the state of Maryland was happy to include Zamfara state into the program even as he expressed the readiness of Maryland to assist Zamfara in key sectors of the economic to boost the economic growth of the state.
On his part, Governor Yari identified education, health, and agriculture as key areas that his government will focus on under the sister state program.
African Examiner's correspondent who attended the program reports that both states agreed to set up a joint committee that will implement the partnership program.
Other countries that are members of the Maryland sisters state program are Brazil, China, Japan, Liberia, Mexico, Estonia, France, South Korea, Belgium and Poland.
Short URL: https://www.africanexaminer.com/?p=9954