"Seven PDP Governors In Private Meeting With APC, Says Okorocha
Featured, Latest News, Nigeria 2015 Election
Monday, March 9th, 2015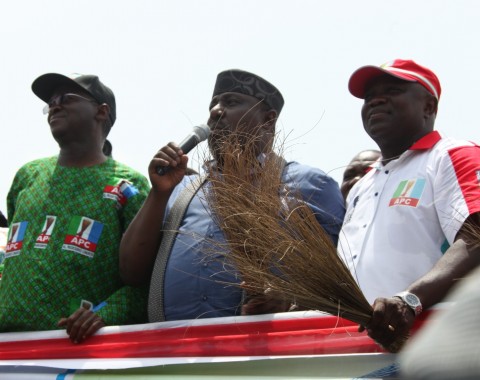 The Imo State Governor, Rochas Okorocha has alleged that seven Peoples Democratic Party (PDP) governors are in private meeting with the All Progressive Congress (APC) leadership to forge an alliance for the emergency of General Muhammadu Buhari as president.
Okorocha was at the APC Rally in Mile 2, Amuwo Odofin, Lagos on Monday, saying that the PDP governors were in Lagos for the crucial meeting with the APC to strategise on how to ensure victory for Buhari.
The Imo governor, however, did not mention the names of the PDP governors who are in secrete meeting with the APC.
"GMB's victory has been sealed and delivered. Today, about seven governors who are not APC are coming to hold meeting with us privately. There is fear in the country. And the fear was that they know that GMB is a good man and he will win.
"And they know that once INEC announce GMB as the winner of the presidential election, all the bad people who are embezzling the country's fund will leave the country at night. The fear of Buhari is the beginning of stoppage of corruption," he said.
He described the PDP as a dead party and that it would finally be buried on March 28 during the presidential election.
"I want to regretfully announce the death of PDP. The party died immediately APC was formed. We scheduled the burial of the party for February 14th but they postponed the burial to March 28th.
"We are waiting patiently to bury the party forever. But let me tell you that you can change the date of burial but you cannot change the burial. It must take place. May the soul of PDP rest in peace," he stated.
Okorocha said the worst thing could happen to any nation is to have a bad government as the worst thing also that could happen to any family is to have a bad father.
In his words: "Today, it is obvious that PDP is a bad government. And we thank God that we came together to change the bad government. And the change we came together for has started.
The governor recommended the APC governorship candidate in Lagos, Akinwunmi Ambode to the Igbo community, urging them to vote for him as he would protect their interest.
"I am in Lagos for one man, and that is for Ambode. He is a good man and he will not deceive you. He has a caring heart. He loves everyone. All tribes in Lagos will be safe in his hands. And this is one man that can start and continue what Fashola started.
"Lagos today has improved and he is handling over the mantle of leadership to a man that will continue the geometric progression that has been witnessed in Lagos," he said.
At the rally, Ambode promised to complete the Lagos-Badagry expressway as well as the light rail system which Fashola started.
Please follow and like us:
Short URL: http://www.africanexaminer.com/?p=22618