Building Collapse: Dangote Cement Partners LSBA
Business
Wednesday, April 23rd, 2014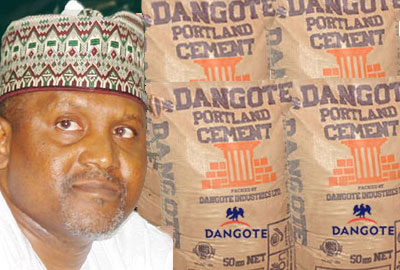 …Trains Building Materials Dealers In Benin
The nation's foremost cement manufacturer, Dangote Cement last week expressed its willingness to partner members of Lagos State Bricklayers Association(LSBA) towards eliminating the spate of collapse building in Lagos even as the cement company collaborated with Standard Organisation of Nigeria(SON) to train building materials dealers in Benin, Edo State capital.
Regional Manager, Marketing Services of Dangote Cement Plc, Johnson Olaniyi in his remarks at the inauguration of the new executives of LSBA in Lagos State said the company's new product Dangote 3X Cement is developed to enable builders build with peace mind. According to him, the new 42.5 3X cement is quick setting and comes with more strength than other brands in the market.
Highlighting the of advantages of new Dangote 3X Cement and other brands in the market, he said "The 3x is an acronym for more profit to all users of cement while allowing the builders to build with peace of mind. The product comes with more yield, more strength and more life".
He pledged Dangote Cement's willingness to partner with the new executive led by Abel Kayode in training new bricklayers and retraining old hands in the sector to adapt to modern standards in bricklaying. The training he said, will help greatly in reducing the spate of collapsed building in Lagos State.
Mr. Olaniyi added that Dangote Cement will be providing the bricklayers with basic tools that will help them in doing their jobs more efficiently and called on interested members to come and become distributors of Dangote Cement.
Responding, the new President, Abel Kayode commended Dangote Cement for sponsoring the inauguration of his executive and pledged to work hand in hand with the cement company towards eliminating the menace of collapsed building.
In a related ddevelopment, the Edo/Delta Zonal office of the Standards Organization of Nigeria(SON) has commended Dangote Cement for partnering the agency in training members of Cement,Iron,and Asbestos Free Products Dealers Association(CRADA) in Benin City.
State Head, SON, Edo/Delta, Mr. O.I Akogun who gave the commendation at a day seminar for CRADA members said that though a lot of organisations were approached for sponsorship of the training, only Dangote Cement responded. He commended the company for the introduction of the new 3X cement and called on participants to buy the products as it has been approved by SON.
Responding, representative of Dangote Cement, Johnson Olaniyi said that the company's sponsorship of the seminar is deliberate strategy of collaborating with stakeholders to promote standardization in the building and construction industry.
He informed CRADA members that they form a vital link in the distribution network of Dangote Cement and pledged that all their demands will be met. About 300 dealers attended the training.
Short URL: https://www.africanexaminer.com/?p=10350