APGA Blasts Okorocha, Says He's Worse Than Biblical Prodigal Son
Featured, Latest News, News Across Nigeria, News From The State
Friday, June 1st, 2018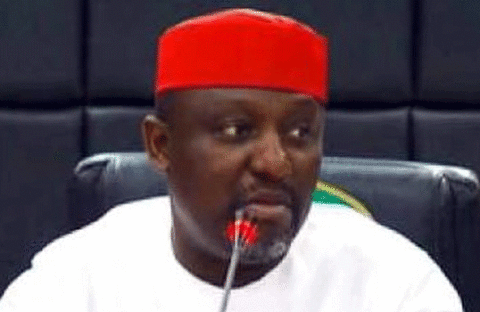 From  Ignatius  Okpara, Enugu
(AFRICAN EXAMINER) – The opposition, All progressive Grand Alliance APGA, has denied ever receiving the sum of N3 billion naira from embattled Imo state governor, Rochas Okorocha, to pave the way for his return into the party, as being speculated in some quarters.
The party explained that APGA rejected Okorocha's move to rejoin the party because he is  not sincere, adding that the governor is worse than the Biblical Prodigal son.
The National Chairman of the party, Chief Victor Oye, who spoke to newsmen  at his country home in Amawbia,  Awka South council area of Anambra state, maintained that the  party did not at any time collect the  sum of N3 billion from the governor.
He said as  a Christian he was  very familiar with the story of the prodigal son, who returned to his father after squandering his wealth, but stated that Okorocha's case was worse, as he was still unrepentant.
African Examiner reports that Okorocha, who won his gubernatorial  election on the platform of  APGA in 2011,  defected from the party to the then newly formed  APC  with some members.
However, only recently, news of Okorocha's overture towards APGA dominated the social media, as he was said to have approached the party leaders in the hope of actualising his dream of crowning his son in-law, Uche Nwosu, as his successor.
It was alleged that he offered the leaders of the party the sum of N3 billion to pave his way back, an allegation Oye, has since dismissed.
"An Igbo proverb says a man who refused to join a ship cannot say he was chased away from the ship. Rochas chased himself away from the APGA ship, and I can tell you that he can never be a member of the party again.
"He won his governorship seat on the platform of APGA, but he took away our members and our mandate and joined APC. He started well in Imo, but immediately he left APGA, he lost vision.
"He is worse than the prodigal son, and that is why we refused to take him back. He was not sincere with his return. He is an unrepentant sinner and APGA can not take such a man. He is only coming to APGA because his APC ship had left him." Oye stated
According him, fielding Okorocha in 2011 was a mistake by APGA because of the hasty need to change the Ikedi Ohakim government, which caused the party not to run a thorough background check on him.
"He does not fit into APGA. He is not a team player, he acts like Lord of the manor. He is not charismatic, he is not credible either. That is why you see even his fellow governors rejoicing when he was sidetracked by his party men recently."
The national chairman vowed to ensure that Imo, which his party won in 2011 was retaken again in 2019, insisting that this time, the party had set in place mechanisms to ensure that a credible personality emerges as candidate.
"As you can see, we are already working. We will hold a very credible primary election in Imo to ensure that the best candidate emerges. We had 20 aspirants there last month, but right now we have 14 aspirants. Six of them have dropped and we are confident that the best would become our candidate." He explained.
But  Okorocha's Chief Press Secretary, Sam Onwuemedo  denied that his boss made moves to join APGA
He said Okorocha being a foundation member of a mega party like APC could not by any imagination start negotiating with a mushroom party that had no structure in Imo State.
Short URL: https://www.africanexaminer.com/?p=44225