Bayelsa: Dickson Coasts To Victory, Wins 62% of Total Votes Cast
Bayelsa Election 2015, Featured, Latest News, News From The State
Saturday, January 9th, 2016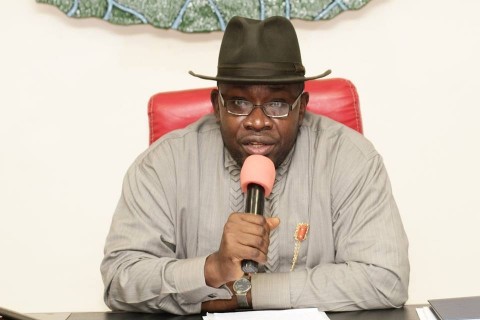 BALTIMORE, MD (AFRICAN EXAMINER) – The Bayelsa State governorship rerun election seems to have been won and lost as the People's Democratic Party (PDP), is in a comfortable lead with sixty-two percent of the total vote cast across the state.
Already party chieftains are in celebration mood as PDP has chalked up a total of  11,567 of the 14,445 of the re-run votes, thereby leaving the major opposition party, All Progressive Congress (APC), with a mere 2,721 votes from the figures released so far.
With the very low turnout recorded,  which was an apparent direct fall out from the violence that characterized  the Southern Ijaw local government areas,  Ekeremor and Nembe,  there is no way APC will over take the PDP with its over 40,000 lead.
Meanwhile, a close observation of the voting pattern in Bayelsa State, further makes victory almost certain for  Hon. Seriake Dickson, who is set to break the  two – tenure jinx.
So far Governor Dickson made a clean sweep of  Amassoma,  the home turn of the state's  first elected governor, late DSP Alamieseigha, a very close ally of the governor.
The governor won 95 percent percent of Sagbama votes,  Ogbia and Yenagoa.
He is also in a vantage position ahead of Chief Timipre Sylva,  thereby making victory almost certain for him.
Some results released:
OTUAN WARD 5 IN SOUTHERN IJAW LGA.
PU 012
PDP……….81
APC……… 31
WARD 1,
UNIT 08:
APC 26,
PDP 68.
Angiama Community- Ward 2 SILGA, PU 003 (Isianlubo Open space)
APC- 15.
PDP- 210
WARD 1,
Silga constituency 2
UNIT 11:
PDM 1,
APA 1,
APC 27,
PDP 110
Ward 9 unit 21
Constituency 1 Ammasomma
PDP – 151
APC– 25
Unit 12
PDP – 92
APC -26
Unit 11
PDP – 67
APC – 23
Unit – 1
PDP– 94
APC– 12
WARD 7
Ofoniawor Community Square PU 011
APC 35
PDP 35
WARD 7
Sagbama LGA, Otuasamoh PU 014
APC 43
PDP 39
Ward 10
Oyeke Open Space Yenagoa PU 009
APC 78
PDP 61
Nembe (Ogbolomabiri)
Ward 2:
PDP: 412
APC: 06
Ward: 8
PDP: 245
APC: 8
Ward: 9
PDP: 505
APC: 6
WARD 6, AMANAGBENE/OBIRIGBENE UNIT 10
PDP=158
APC=9
OGBOSUWARE WARD 5, UNIT 006
PDP=62
APC=0
ADIEGBE WARD 5, UNIT 4
PDP=189
APC=0
WARD 1 Constituency 2
IGEBIRI COMMUNITY
PU 29
PDP 149
APC 71
PU 30
PDP 105
APC 55
Polling Unit 31
PDP 217
APC 90
Unit 8 ward one in constituency 2 Silga
Pdp 62
Apc 26
Dpm 1
DPC1
Otuegwe ward 2 unit 09
PDP 124
APC 4
Ward 2 unit 015
Onuebum Ogbia
APC – 27
PDP – 55
DPC- 2
Short URL: https://www.africanexaminer.com/?p=29296