Boko Haram Socio-Political and Ethno-Religious Demand on Nigeria
Latest News, Prof.R.A Ipinyomi
Sunday, May 18th, 2014
By Prof. R.A. Ipinyomi, University of Ilorin, Nigeria
In Nigeria tensions have continued to rise high since after hundreds of school girls were kidnapped by Islamist militants in Government Girls Secondary School, GGSS, Chibok, somewhere in Borno State North East corner of Nigeria. There is a widespread global demand on it already under the caption "Bring Back Our Girls" to the extent that security forces have to be breaking up protests who are demanding the rescue of the girls.  Government authorities in Nigeria seem not very comfortable with the protests and they fear these protests may spark sectarian violence in the more volatile parts of Nigeria. In Abuja the Federal capital, protesters were calling for the rescue of the girls periodically, shouting, "Bring back out girls now and alive!", "Bring back our girls now and alive!" or ordinarily "Bring Back Our Girls". Very few politicians, apart from those in direct duty line, are campaigning alongside the public; showing the polarisation of politicians. Rumours have it that some politicians are funding the Boko Haram activities to smear government efforts. Time will tell and time will reveal the truth.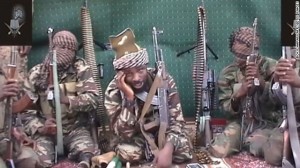 Instead of rescuing these girls, from the clutches and grip of the dreaded Boko Haram, security personnel pre-occupying themselves managing protests and protesters with their tankers and their heavy machineries. Another diversion is government's attention of apportioning blames as their first priority, blaming State authorities, school authorities for allowing the WAEC Examinations in the first place. Unfortunately no high level government officer has identified with the local authorities in Chibok. The President has kept postponing his visit to the area on security ground. Our suggestion is that a good fraction of the weaponry on the streets, at many road blocks, and those being used to protect political officers for only God knows why, would be better deployed in the northeast where security forces are searching for nearly 300 teenage girls, believed to be held hostage in the Sambisa forest by Islamist militants known as Boko Haram. The search must include all previously missing girls and not only GGSS Chibok girls.
Several places in Nigeria can be regarded as hotspots for political and community violence confounded in political, ethnicity and religion colourations. Kaduna city has long been a hotspot for political and community violence, and nearly a thousand people were killed there in post-election violence in 2011. Kano is another hotspot, where the well known commercial hub in Northern Nigeria is living only on its past glory, because of the frequency of re-occurring violence. Jos has remained a major ethno-religious hotspot for a while. Abuja, especially UN houses, Nyanya and Churches around have continued to be touched by Boko Haram activities. Lagos is not speared as some arrests have been reported even in world popular Pastor T B Joshua's Church. Our guess is that as the presidential elections approach in 2015 Nigerians should only expect and fear more bloodshed. This is a significant index of a failed State institution. Government needs to prove us wrong.
But who are the people masking as Boko Haram? What are their demands and goals? First we wish everyone to understand that the crises being ascribed to Boko Haram are not being perpetrated by the poor man or the young men carrying the weapons.  It is believed that the organisation is raised here in Nigeria, and it is being used by some unknown politicians or some others, initially as pressure group. The organisation has grown in men and activities across Nigeria boarders to neighbouring countries like Cameroun, Niger, Chad, Benin Republic, and even Mali and further away countries. In Nigeria it is most likely based in the city of Maiduguri with a self-proclaimed leader is Abubakar Shekau, believed by Nigeria Government officers to have been killed.
Boko Haram probably started with a humble beginning in 2002 as a non-violent Islamist splinter group. They remained at that level for a while and in time they were able to recruit and train their followers. Nigeria government under the leadership of Obasanjo with Atiku Abubakar as Vice President ought to have noticed their existence even when they might not have predicted its future devilish activities. But as Boko Haram began to choose its weapons and targets it became clear that it was not a non-violent Islamist group. A number of Islamist scholars became wary of Boko Haram but only very few of them spoke up for fear of life.
By 2009 Boko Haram started and by launching serial uprisings across the nations. Christian worship places were their easy targets. By 2010 Boko Haram had killed thousands of innocient souls across Nigeria especially in the northern part of Nigeria.
The group has a slogan claiming that "Western education is sinful" whereas it has been alleged that most of its leaders are highly educated with Second of First University Degrees. They rally support of the Muslim group in Nigeria by claiming that they "Wants Nigeria to adopt strict Islamic law" called Sharia. Many Muslims must have bought that idea.
What are the real demands of Boko Haram? Does the organisation have association outside the borders of Nigeria or simply a local Nigerian headache? A typical example is the activity of Boko Haram in Kaduna. Boko Haram and general insurgencies occurrences of security crises in Kaduna, where the mostly Christian south meets the mostly-Muslim north may give some clue. Most security crises in Kaduna have often been attributed to politicians hiring thugs to intimidate or punish voters. Boko Haram insurgents have killed thousands of people in the past five years, including hundreds of school children. The alleged link to politicians hiring thugs is not evident as no politicians have been known to have been Boko Haram victims so far. We press on those who mean well for Nigeria and wish to totally stamp out the menace of Boko Haram to look not only into poverty and large scale unemployment that are cheap factors. Security officers should study the factors of religious differences, political power obsession and the corruption.
The GGSS Chibok girls forcefully kidnapped mid-April 2014 that had sparked protests, in Nigeria and around the world, demanding the girls' safe return may turn out a blessing not only for the girls and Chibok but Nigerians.  Officially, the Nigerian government ought to be capable in putting down the ever growing Boko Haram but for its complex link with different levels of governments, politicians and religions. The Nigerian Police Force's position has been stated by its spoke person when he said, "The position of the Nigerian police force is clear," said Nigerian Police spokesperson Frank Mbah Monday in Abuja. "Nigerians have got the right to peaceful assembly, to peaceful association, to peaceful protest as long they do so with the confines and boundaries of the law." Our problem is the use of words and weapon by the NPF or FGN spoke persons. You need a good weapon to assist your words. Speaking forcefully or diplomatically but shying away from ordinary visit to the site at Chibok is not collaborative. Too much suspicion of political opponents has been allowed to drive the agenda, of crushing Boko Haram or even identifying who they are, rather than putting your political opponents on the defence. Similarly those who wish to rule Nigeria using innocent blood of ordinary school girls or church worshippers must have a rethink. Nigerians are the best to solve their problems. Nigerians must now agree from their hearts that some Nigerians will profess the Christian Faith, the Islamic Faith and others whatever they wish. We must learn to respect each other whatever our faith. My family has at least three people that have gone to Mecca and come back and also many pastors. We still live happily together; even when I wish my Muslim brothers or sisters will one day agree with my side of faith.
Now Nigeria has been pushed to accepting any assistance from all over the world including from the United States, the United Kingdom, France, Canada, China, Israel and some others. Among them they have agreed to provide material support for the rescue effort of these GGSS Chibok girls. Boko Haram is holding the girls as slaves to be sold as wives, but we believe as human shield against international attack. Nigeria's pay back days are always on big compromises at the floor of the United Nations or demand for policy changes like overturning same-sex marriages. There exists no more pride for Nigeria when a group the size of Boko Haram can inflict both fears and actual impunity actions to stiff life out of ordinary Nigerians in Chibok where citizens prefer to sleep in the forest with wild reptiles rather than with Boko Haram in their rooms. When our girls return home their stories will be part of the annals of Boko Hram activities in Nigeria. However no story will compare with true confessions that are coming out of the mouths of field members of Boko Haram or their luxurious political, rather than religious, sponsors. Those who wish to govern Nigeria using the guise of Boko Haram may have chosen the wrong weapon and at the wrong time. Certainly they have pounded on the wrong victims. Politicians should learn how to build on good character, policies and reputation rather than ineptitude and intolerance. By all this action we Nigerians in the North Central have been made the king makers of Nigeria and we shall work to perfect that position while others die in the field fighting the wrong battles.
Prof. R.A. Ipinyomi,
ipinyomira@yahoo.co.uk or/and raipinyomi@unilorin.edu.ng
_______________________________
Support African Examiner's Free Journalism. By making a little donation, you are ensuring this site is free for all; you are also helping us to stay afloat and fulfill obligations to our reporters and other service providers: Thank you for your supports.
Send donations to:
AFRICAN EXAMINER, 1016408743, UBA
AFRICAN EXAMINER, 2028842299, First Bank
AFRICAN EXAMINER, 1012873398, Zenith Bank

For Enquiries send text to: +234.809.111.3268, +1.443.904.1239
Short URL: https://www.africanexaminer.com/?p=11516