Christian Group Blasts Jonathan For Campaigning while Nigerians Mourn
Featured, Latest News
Thursday, April 17th, 2014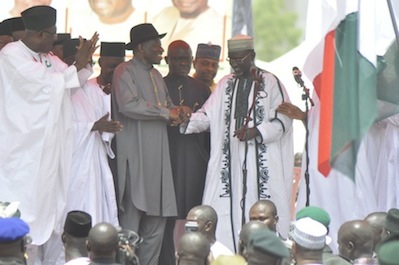 Ignatius Okpara
A humanitarian organization, Christian Foundation for Social Justice and Equity has commiserated with families that lost their loved ones in last Mondays deadly twin bomb explosion around Nyanyan, in Abuja.
African Examiner reports that he barbaric act reportedly occurred around 6am when a vehicle laden with Improvised Explosive Device (IED) exploded in the ever busy bus stop where commuters board government-operated luxury buses provided by SURE-P and other commercial buses parks.
Joseph Sangosanya, Executive Chairman of the Foundation in a statement made available to African Examiner Wednesday in Enugu, regretted that this inhuman and degrading attack followed initial attacks on innocent Nigerians in Borno State where a State of Emergency is still in force.
According to the statement, "last Friday, candidates who were going to sit for their Joint Admission and Matriculations Board (JAMB) exams with their centers located in Gwoza town, Dikwa, Gambulga and Kala Balge were attacked".
"Suspected Boko Haram members had earlier attacked Kala Balge town with three villagers killed on Thursday. About 210 people, including JAMB candidates were reportedly killed in the attacks.
He said "It is however unfortunate that the political elites are toying with the lives of innocent Nigerians who are being killed daily as the ruling Peoples Democratic Party (PDP) through its Publicity Secretary, accused the major opposition political party in the country, All Progressive Congress (APC), as the sponsors of the insurgents.
"We considered this as a very grievous allegation which security agencies must investigate.
"This position of the ruling PDP is also obvious in the President Jonathan's dispositions to the lives been lost daily in the country. While over 500 Nigerians have been killed in the last 5 days, the President is busy promoting his re-election ambition via baseless Unity Rallies across the nation, even when it is crystal clear that Nigeria is falling and failing under his watch.
"Visit to Ibadan, Oyo State capital today by the President, is an unexpected and unexplainable insult on the sensibility of Nigerians and disrespect to victims of the yesterday's bomb blast and one of his many "I don't give a damn" attitudes. It is expected that the nation should be mourning the victims of the various attacks across the country today and not celebrating it.
"This is a great disservice of highest magnitude to this country.
"It is also important to establish that, structural problem deeply rooted in injustice, inequality, extreme poverty and weak institutions, which are the primary causes of the growing insecurity in the country must as a matter of urgency is addressed.
"Similarly, inefficient and ineffective intelligence gathering, coupled with almost half of the security agents, who are being paid with tax payers money, protecting the over privileged few political elites leaving 90 percent Nigerians unprotected is a major concern that needs to be looked into.
The organisation, therefore called for total overhauling of the security agencies with a clear mandate of repositioning the agencies without considering any political, religious or ethnic considerations but absolute loyalty to the Nigerian state.
"While condemning these inhuman and degrading attacks, it is also expedient and imperative to urge the security agents to up their game and change tactics where necessary to combat the menace of the insurgencies.
"They need to move away from analogue security system to the more efficient and productive digital system. We also urge Nigerians to be conscious of their environments and provide useful information to security agencies, Peaceful Nigeria is non-negotiable, the statement added.
Short URL: https://www.africanexaminer.com/?p=10165