BREAKING NEWS: Terrorists Bomb Abuja Nyanyan Motor Park
Featured, Latest News
Monday, April 14th, 2014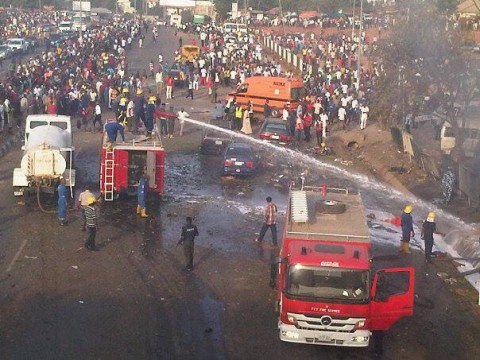 …More than 200 Feared Dead In The Gruesome Attack
Terrorists on Monday struck at Nyanyan, a 5-minute drive to Abuja, Nigeria's Capital City and bombed a major motor park known as Nyanyan park, throwing the entire area into deep confusion.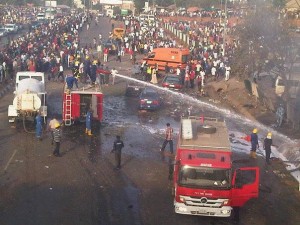 The bomb blast, according to eye witnesses occurred at the densely populated park at about 5.55 am, killing scores of innocent people, while many others sustained serious injuries.
More than 200 people are reportedly feared dead in the gruesome attack, which left charred bodies scattered all over the place.
Some of the dead victims and the injured were taken to the hospital by ambulances and vans belonging to the police, the Vehicle Inspection Office (VIO), Federal Road Safety Commission.
As at 7.00 am, a heavy traffic had built up from the ever-busy Maitama Junction leading to Nyanyan, as movements from Abuja to the northern parts of the country had almost been grounded.
The popular Nyanyan park is a hub for travellers to some part of the northern states incuding Nasarawa, Benue, Plateau, Kaduna and Bauchi states.
Newsport
Short URL: https://www.africanexaminer.com/?p=10070