Chieftaincy Ban: Community Ignores Chime Directives, Recognises Ekweremadu
Featured, Latest News
Sunday, April 20th, 2014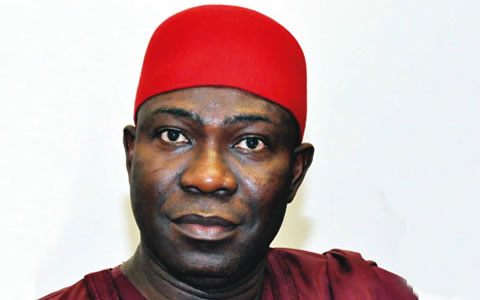 IGNATIUS OKPARA, Enugu
The people of Oduma community, in Aninri council area of Enugu state has ignored the recent order by Enugu state government, banning traditional Rulers in the state from conferring chieftaincy title on any body, as they conferred different titles on Deputy senate president, (DSP) Ike Ekweremadu, and three other personalities.
African Examiner recalled that the Enugu state government had recently, via the permanent secretary, ministry of chieftaincy Affairs, Ferdinard Anikwe, directed all the traditional rulers in the state to henceforth, stop conferment of title to any body, beginning from 9, April, to December this year.
However, investigation by our correspondent revealed that the decision was a calculated attempt by Governor Sullivan Chime, to stop the traditional ruler of Oduma community who had earlier fixed 19th April, 2014 for the conferment of chieftaincy title on the DSP and three others from doing so, because of the perceived ongoing cold war between him and (Ekweremadu).
But determined to reciprocate and show appreciation to the lawmaker, who is also from Aninri council area, and represents Enugu West senatorial district at the National Assembly NASS, for the numerous human oriented projects he has attracted to the area, the community, went ahead to confer on the speaker,(ECOWAS) parliament, the title of "Dikejiejemba",(meaning a (great man).
Although, the ceremony, which was packaged under the platform of Oduma Unity Forum, presided over by the elders council, ought to be handled by the traditional ruler of the community, who was conspicuously absent, probably for fear of government sanction.
Addressing the mammoth crowd, Ekweremadu, who received the title alongside Minister of works, Mike Onolememen, Group Managing Director of SETRACO construction company, Engr. Fayex Khalaf, had expressed gratitude to God for not allowing those who made effort to scuttle the event succeed.
The senator told the community that he left his legal profession to venture into politics with a view to liberating the people of his senatorial district including Oduma from abject poverty.
He said "I have covenant with the people of Enugu west senatorial zone, and that is to serve them creditably, as well as provide for them democracy dividends."
Ekweremadu, who had earlier in the day monitored numerous ongoing road projects he attracted in parts of the senatorial zone, disclosed that the federal government, under president Goodluck Jonathan, has constructed over 200 kilometres of roads within district.
He also informed the people about other such ongoing projects in parts of the zone including a Dam and power station, adding that when completed, the Aninri power station, would have the capacity of extending electricity to other parts of the state.
Short URL: https://www.africanexaminer.com/?p=10273