Controversial White House Press Secretary, Sean Spicer Resigns
Featured, Latest News, U.S./Canada, World News
Friday, July 21st, 2017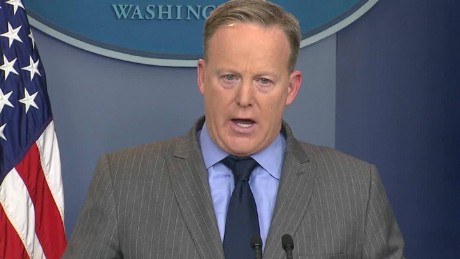 BALTIMORE, MD (AFRICAN EXAMINER) – After being embroiled in endless controversy, the White House Press Secretary Mr. Sean Spicer has at last resigned his appointment.
Spicer reportedly resigned in protest against a shake-up within the President Donald Trump's communications team.
The shake-up came up as the White House faces inquiries into alleged Russian meddling in last year's US Presidential election as well as whether Mr. Trump's campaign team colluded with Moscow.
According to report, Mr Spicer was said to have reservation on Trump's appointment of a new Communications Director.
Mr Spicer reportedly disagreed with the appointment of Mr Scaramucci, which he believed to be a "major mistake".
The search for a new appointment began after Mike Dubke resigned as the communications director in May.
Mr Spicer has since been serving as both Press Secretary and Communications Director since Mr Dubke's exit.
There was a window to Spicer's likely short stay in the White House and frosty relationship with the newsmen, as he on his first day in office in January, burst into the briefing room to berate journalists over inaccuracy in reporting of crowd number at President Trump's inauguration.
In his place, combative Wall Street financier Anthony Scaramucci has been speculated as a replacement for Spicer.
It was observed that Mr Spicer's press briefings recently were a cable news hit, as he withdrew from camera.
His proclivity for gaffes and garbling of his words, as well as making debatable assertions, soon saw Mr Spicer's name trending on Twitter.
He has also been lampooned on the topical comedy show Saturday Night Live, where Melissa McCarthy played him as "a gum-chewing, loud-mouthed thug who brandished his lectern at reporters".
Short URL: https://www.africanexaminer.com/?p=40166