Dickson Approves Full Payment January Salary to Teachers, to Get 50% May Salary
African News, Articles/Opinion, News Across Nigeria, News From The State
Friday, June 17th, 2016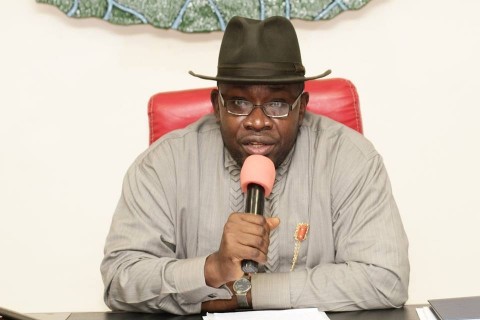 BALTIMORE, MD (AFRICAN EXAMINER) – Bayelsa State Governor, Seriake Dickson, has approved full payment of January salaries to post primary teachers. They would also get 50% of May salaries, bringing them at par with other civil servants in the state.
The affected teachers on Friday embarked on a peaceful protest, demanding full payment of their January salary, arguing that while other civil servants had since been paid they were yet to get January salaries.
Aligning themselves with the position of the Joint Labour on the payment of 50% monthly salaries to the entire workforce in the State, the aggrieved teachers, said they would not collect the May salary until the full payment of January salary is paid.
In response to their request, Dickson, during his meeting with the protesting teachers said his administration placed high premium on the education sector and as such he would do everything to make them happy at all levels.
Accordingly, the governor made good his promise in less than 24 hours after meeting with protesting teachers by approving full payment of their January salaries. The approval which was contained in a statement by his Chief Press Secretary, Daniel Iworiso-Markson, also indicated that they will in addition get 50% May salary.
The governor, who blamed the country's dwindling economic fortunes for the salary delay, assured workers that February, March and April salary arrears would be paid when the situation improves.
He thanked the affected teachers for their tolerance andunderstanding as he called on members of the Academic Staff Union of Universities (ASUU) at the state- owned Niger Delta University, (NDU) to always see reason with government, especially now that the country is facing the worst economic challenges ever.
The present situation, according to the governor, is not peculiar to Bayelsa alone as other states owe their workers between six and nine months' salaries arrears.
The governor said NDU teachers should take a cue from the post primary school teachers who made their grievances known through a peaceful protest that was amicably resolved instead of embarking on indefinite strike.
"No reasonable government will ordinarily owe its workforce but the present economic situation in the country demands that all hands must be on deck in proffering a lasting solution to the economic crisis. The strike action will lead the state nowhere.ASUU should be concerned about the future of the students and reason along with the government", he advised.
Daniel Iworiso-Markson, Chief Press Secretary
Short URL: https://www.africanexaminer.com/?p=33619