EU Leaders Endorse Stricter Measures Against Irregular Migration
Featured, Latest News, World News
Friday, February 10th, 2023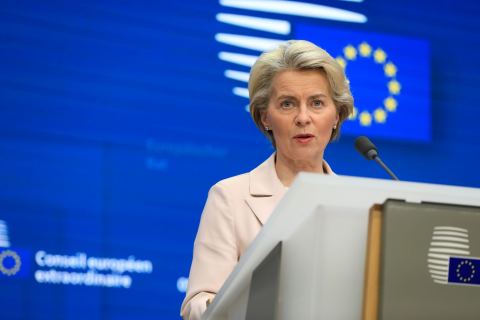 (AFRICAN EXAMINER) – European Union (EU) leaders have unanimously agreed to enforce stricter measures in combating irregular migration.
The EU leaders on Thursday night in Brussels endorsed a series of measures aimed at reducing the number of irregular migrants arriving to the bloc.
President of European Commission, Ursula von der Leyen harped on the need for Europe to take pragmatic steps in preventing irregular migration.
"We will act to strengthen our external borders and prevent irregular migration", she said after the EU summit in the early hours of Friday.
The measures agreed on include initiatives to step up protection infrastructure on the border between Bulgaria and Turkey, including cameras and watchtowers.
von der Leyen said the EU countries also want to recognise each other's deportation decisions more easily in an attempt to increase deportations.
Speaking on a similar vein, German Chancellor Olaf Scholz said it was important that EU countries work together on migration whether "it's about controls at the external borders, improving infrastructure, or cooperation with countries of origin and transit".
The meeting, which was attended by Ukrainian President Volodymyr Zelensky, was initially convened over high numbers of asylum requests and arrivals of irregular migrants to the bloc, which prompted several EU countries to call for stricter measures.
In 2022, authorities registered a 64 percent increase in irregular border crossings compared to the previous year, according to EU border management agency Frontex. Asylum applications rose by almost 50 percent.
In addition, it is also estimated that around 4 million people have fled to the EU from Ukraine.
Ahead of the meeting, Austrian Chancellor Karl Nehammer called for €2 billion ($2.17 billion) from the EU budget to fund a border fence on Bulgaria's border with Turkey which is not explicitly mentioned in the adopted declaration.
Despite the agreement, a broader revision of the EU's migration and asylum rules is still pending.
During the summit, EU countries also largely endorsed plans by the European Commission to enable more flexible subsidies for climate-friendly technologies to help the European industry compete with the United States and China.
According to a declaration adopted on Friday, states are to be able to grant tax benefits for strategically important industries.
Moreover, money from existing EU funds is to be made available to support certain sectors to ensure that competition between individual EU countries is not distorted. No mention is made of taking on new joint debt.
EU leaders also agreed that more must be done to combat the shortage of skilled workers and on the importance of the supply of important raw materials. The topic is due to be again addressed in more detail at the next planned EU summit in March.
EU leaders equally called on Serbia and Kosovo to normalize their relations after recent tensions.
Short URL: https://www.africanexaminer.com/?p=85195