Gowon, Chime Hail Guinea Worm Eradication In Nigeria
Latest News, News From The State
Wednesday, April 30th, 2014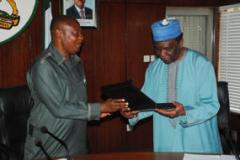 IGNATIUS OKPARA, Enugu
Former Head of State Gen. Yakubu  Gowon (Retired) and Enugu state  Governor, Barrister Sullivan Chime Tuesday congratulated Nigeria on her recent certification as a Guinea Worm-free nation by the World Health Organization (WHO).
The duo spoke during Gen. Gowon's visit to the Government House, Enugu in his capacity as the President and Chairman of the Yakubu Gowon Center.
Yakubu Gowon Centre for National Unity and International Cooperation (YGC) was established in 1992 as a non governmental organisation (NGO) to further the cause of Nigerian unity, a Strong and united Nigeria, free of disease and poverty.
Gowon said that he was in Enugu to solicit the state government's assistance and support in the elimination of lymphatic filariasis and malaria diseases found to be endemic in the state.
The erstwhile Head of state also requested for two project vehicles to support the implementation of the programme in the state.
Other requests he made included approval and release of state National Tropical Disease budget of Five Million Naira, financial support to patients with Elephantiasis and Hydrocele diseases as well as directive to local government Chairmen in the state to release funds (N2 million) annually to the Primary Health Care Units in their respective areas.
General Gowon had used the occasion to announce that World Health Organization (WHO) had certified Nigeria as free from Guinea warm disease and commended the Carter Center and all the Donor agencies and stakeholders who contributed to achieve the success.
He explained that both malaria and lymphatic filarasis diseases are caused by Anopheles Mosquito and appealed to the general public to always sleep under treated net as well as  take drugs provide by WHO and the Federal Ministry of Health at the Health Clinics.
Governor Chime in his remarks, had expressed gratitude to The Carter Center, Yokubu Gowon Center, the Federal Ministry of Health and all other stakeholders for their contributions towards the total eradication of the disease in Nigeria.
The Governor who was represented by the Secretary to the state government, Mr. Amechi Okolo, also thanked General Gowon for his efforts towards bringing peace and development to the Nigeria.
He noted that Enugu State enjoyed unprecedented relationship with the Yakubu Gowon Center in the eradication of Guinea Warm diseases, adding that the state had already started the distribution of treated net to the people.
The governor pointed out that the two diseases – (Malaria and Filariasis) are endemic in the state and assured the visitor that his administration will corporate and give all the needed assistance to the fight and their total elimination.
Short URL: https://www.africanexaminer.com/?p=10583